Discussion Starter
·
#1
·
Hi (again) Fellas,
my apologies for the third post, I didn't want to put all of my engine issues in one thread. As you may be aware (from all the started engine threads tonight), I recently pulled my engine because I was obviously having issues. So, took the clutch basket out and this was what was sticking out in the exact location you see it: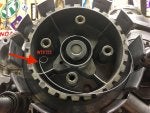 From the clutch schematic for a '72 CL350 there are no wires hanging about all willy nilly. Any ideas what this is (besides being a wire) and how it got there?
Further, inside the clutch outer basket axle opening you'll see groove marks worn into the steel. I am guessing this is not right!? Could the steel wire have caused this?
Finally, I measured and checked the specs on all the friction plates - they all are good, except this one:
A little bit worn and bits pulled off. Time for a new one? On the other side however:
What's with the "F"s?
A little help please.
Cheers
*not sure how I added a thumbnail (bonus pic)