CB250 N Superdream carburettor on CB450 DX ('89)?
Hi all,
A quick introduction...
Over the past few months I've been getting acquainted with and rebuilding / modding an old CB450DX (UK) picked up for a few hundred quid, that I hope to make Cafe/Brat style.
It already had the tail chopped, half the paint stripped and generally covered in grime and needed a lot of TLC, especially the electrics, but the engine appeared to be pretty good condition.
In the process of cleaning the carbs up and trying to loosen the butterflies that had seized, the aluminium throttle pulley lost it's teeth/fingers that hold the cable end.
I can't find any old DX carbs for parts (not wanting to spend hundreds) and wonder if a CB 250 carb is similar enough in dimensions to use for parts - primarily to replace the throttle pulley??
Any thoughts greatly appreciated.
I'll post a few pictures below....
The broken carb pulley
Before work started: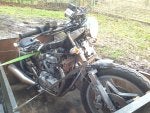 And current condition:
Progress can also be followed on my Instagram
https://www.instagram.com/webbwonders/