Discussion Starter
·
#1
·
Moving sale! Everything must go!
Here's what I've got, and what I'm hoping to get. Deals have to be completed (i.e. paid for) by Monday AM with paypal or local pickup in the Phoenix area. Buy in bulk and save! Make reasonable offers!
Sorry that I didn't have time to take and upload individual photos of everything, but if you are interested in something and want more photos let me know, send me a PM with phone # or email, and I will take more photos and send them your way. Prices do not include shipping!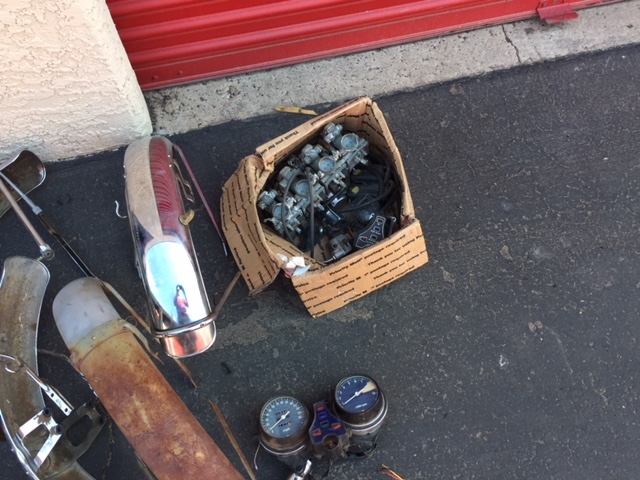 Box of 550 stuff, carbs, mostly there, idiot lights, coils, handlebar switches – I got these for $25 and postage I think, so that's what I'm asking.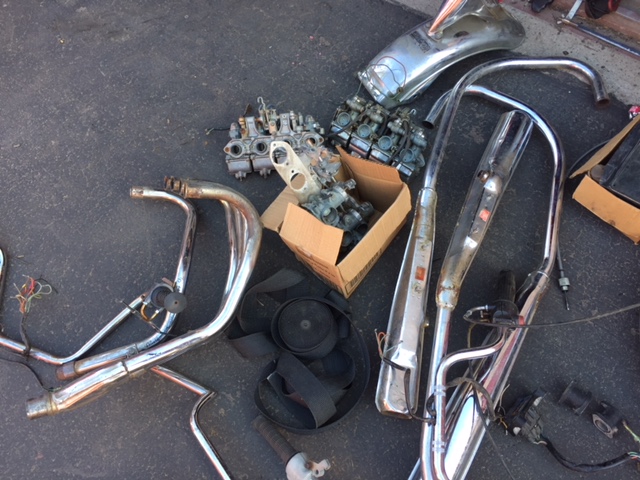 Set of 350 carbs – I think they are mostly complete: $100
Set of 400F carbs – I think they are mostly complete: $100
3 out of 4 350F exhaust, two have some rust on the underside, and the one it's missing is likely the common one that rusts out (LHS lower, IIRC): $75
Box of CB750F (1975) carb parts – I salvaged one body and maybe some brass, some good parts left: $25
Roll of black header wrap, enough to do a twin for sure, maybe a four? $20
Set of narrow clubmans: $10
Set of bars, they're kind of high, off of a 750F, internally wired but probably not stock-- with switches: $50
CB200 carb manifolds, $10
CB350F rear fender, good shape, will polish up nicely, small ding near the bottom of the fender: $40
CB350F tool box, no lid, $10
CB400F exhaust headers, complete set, some rust, but pretty straight: $75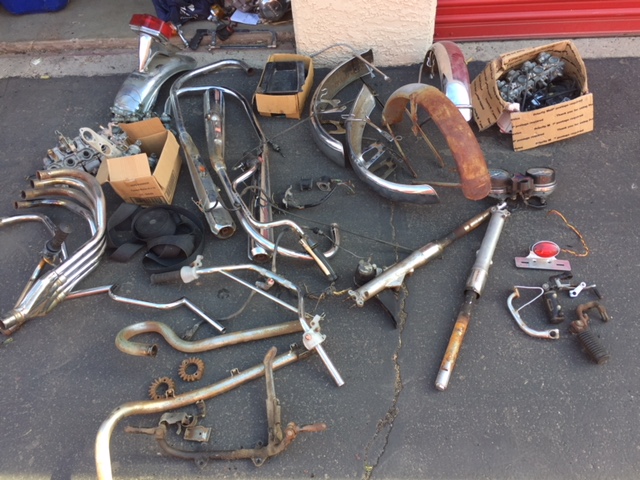 1968 CL175 Sloper headers and clamps, some surface rust but not heavy pitting, will polish up I expect: $50
CB350F forks with front brake assembly. Some rust above the travel area. Brake will have to be rebuilt. $60
Small cateye style tail/brake light with license plate backing, wiring intact: $15
CB400F front pegs and linkage, and brake lever, some rust but will clean up: $100. Linkage side is missing a washer and it's clip, but easy to get at a hardware store…
And another set of 400F front pegs, little rustier, complete with washer and clip: $100
CB160 front fender, straight except for a little ding at the very front or rear of fender, surface rust but not really pitted: $40
CB350F front fender, very nice shape, clean chrome, clean struts: $75
CB350 twin front fender, nice shape: $40
Unidentified front fender --?? -- $25
CB550 gauges and idiot lights, later type: $20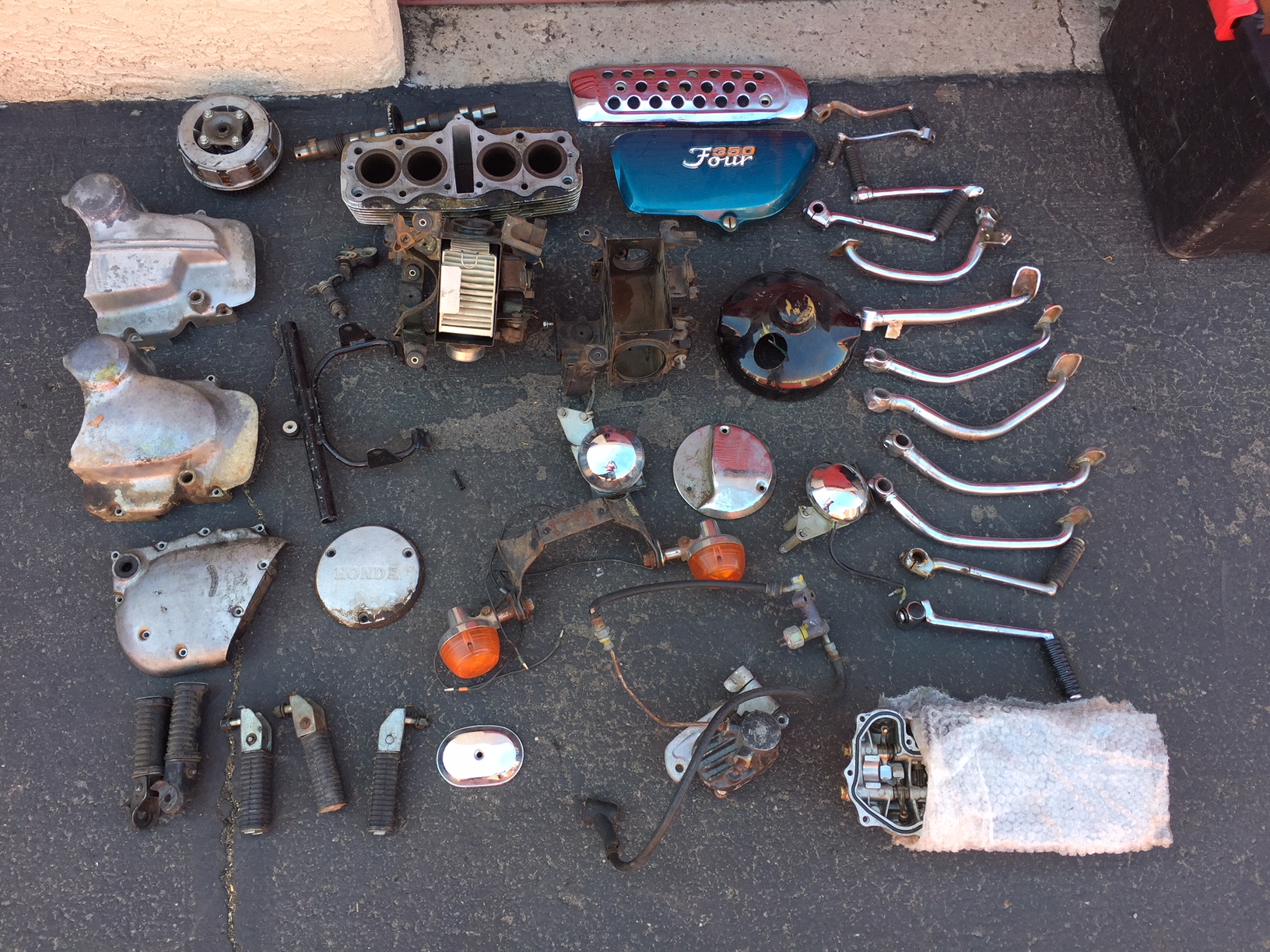 CB350F jugs – good shape, fins intact, inside looks nice: $35
CB350F cam, nice shape, smooth lobes: $25
CL350 rear (?) heat shield: $15
CB350F repainted side cover with emblem: $25
CB350F headlight bucket, some paint wear but intact: $20
CB750 kicker cover: $10
2X CB350F battery boxes, one more complete: $25, one less complete: $20
2X CB350F horns, $10 each
CB350F LHS engine cover, rough but solid: $10
CB400F LHS engine cover, rough but solid: $10
CB350 twin LHS? Cover: $10
CB350F passenger pegs: $10
CL175 rear seat hinge and lights, good shape, needs to be straightened a little: $15
SOHC four (350?) front brake assembly, no MC: $15
CB350F rocker cover and assembly: $30
CB350 twin points cover (or other side?): $10
Various brake levers, shifters, and kickers: make an offer, 350F, 350 twin, 550, maybe a 750 in there.
350F kickers: $20
CB400F headlight mount: $20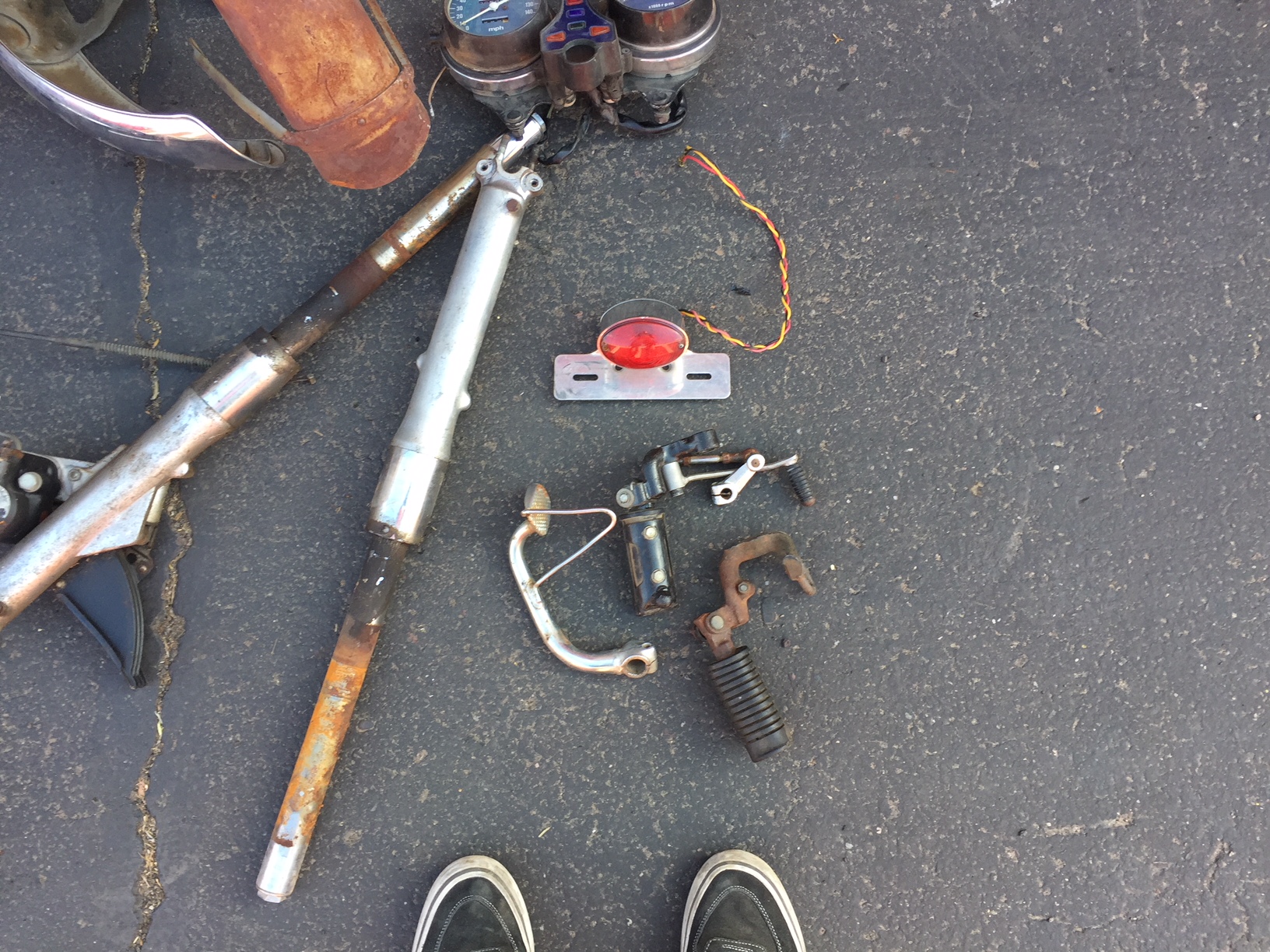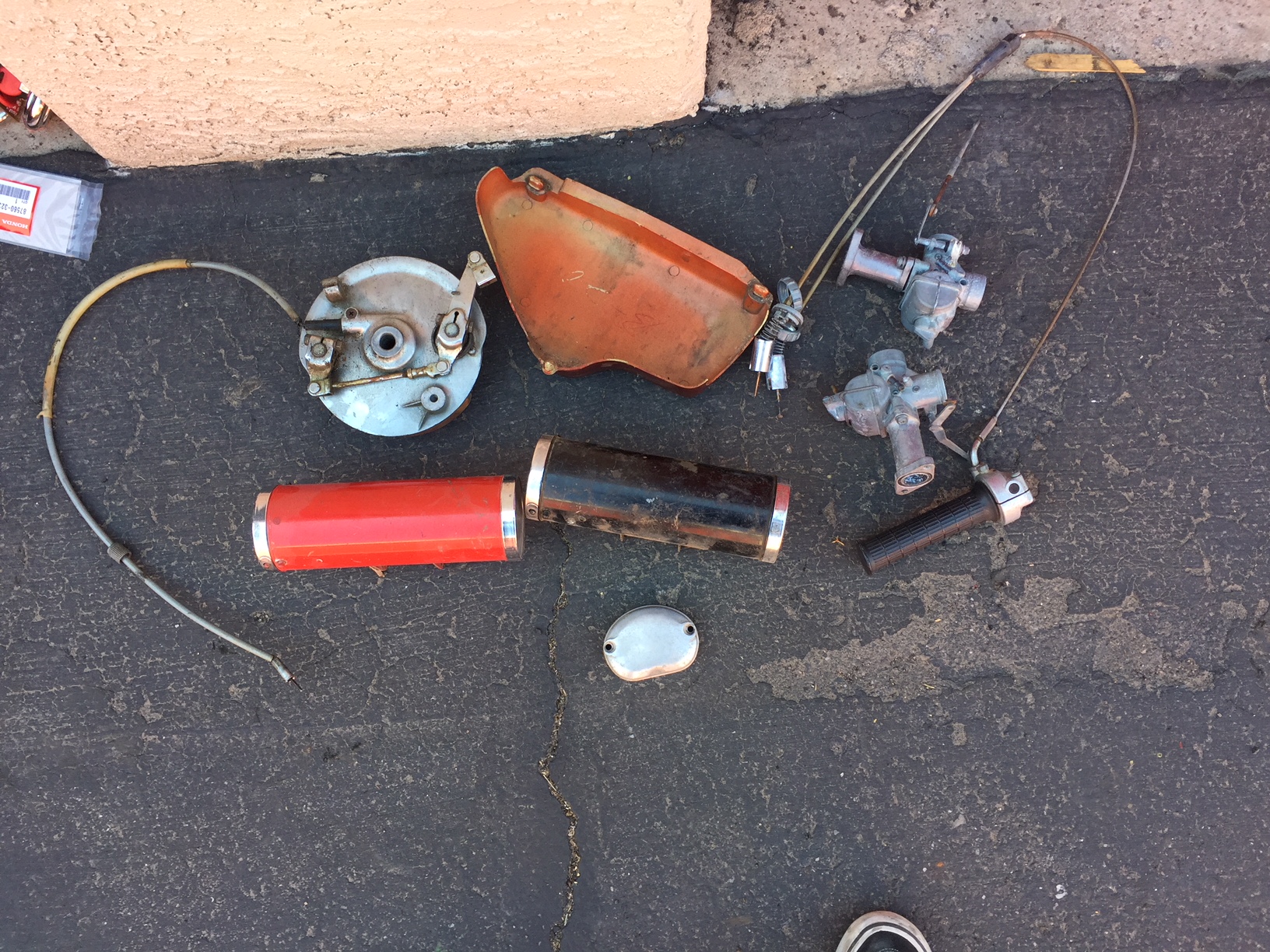 2X CB160 tool boxes, one red, one black: $15 each
CL160 carbs, think they're all there: $60
1968 CL175 sloper, left hand side cover, small crack: $20
CL/CB160 point cover: $10
Front brake assembly (CB160? CL175?): $10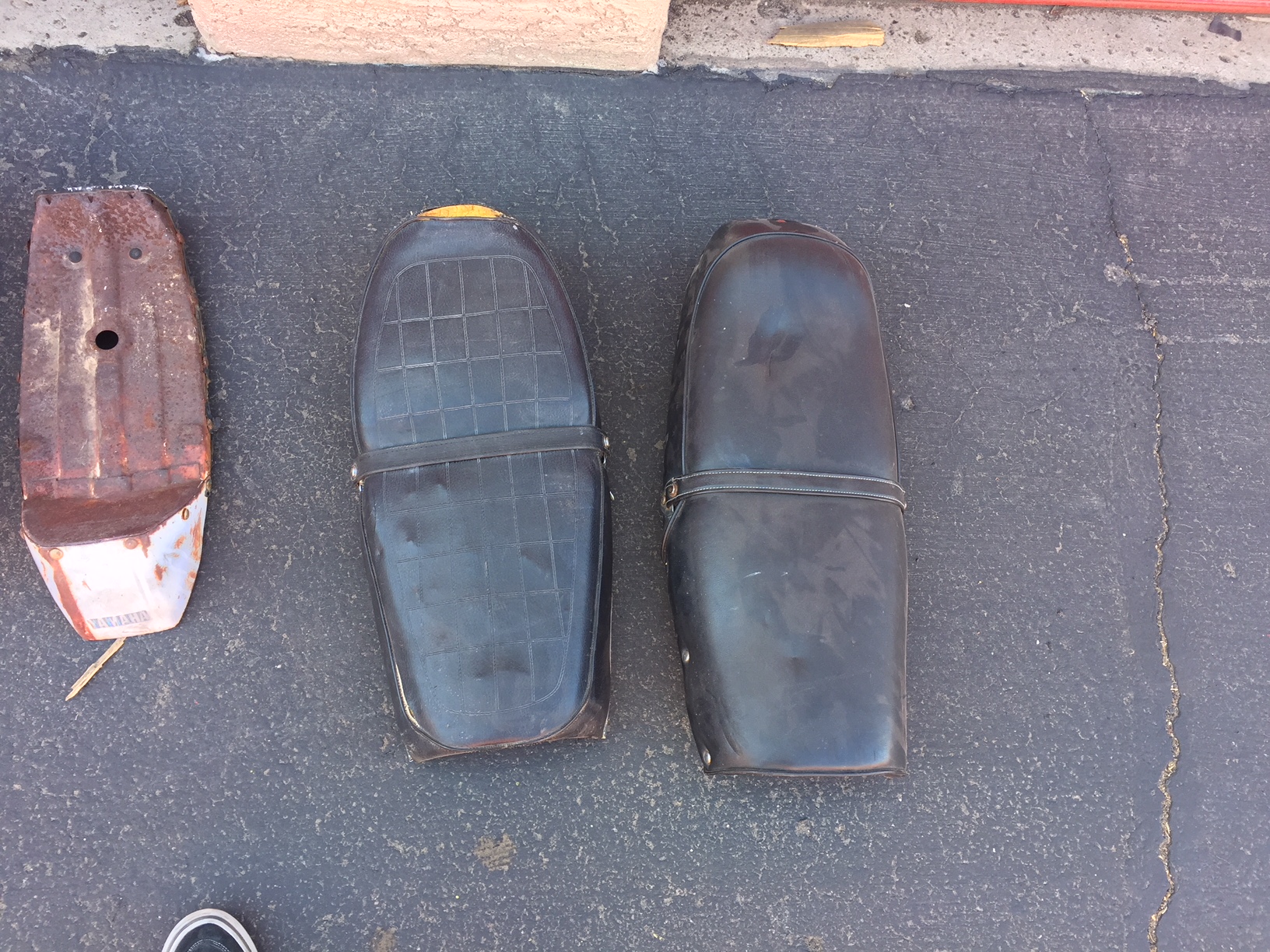 CB400F seat, recovered, good shape: $50
CB350F seat, torn cover, but intact: $40 will throw in seat cover!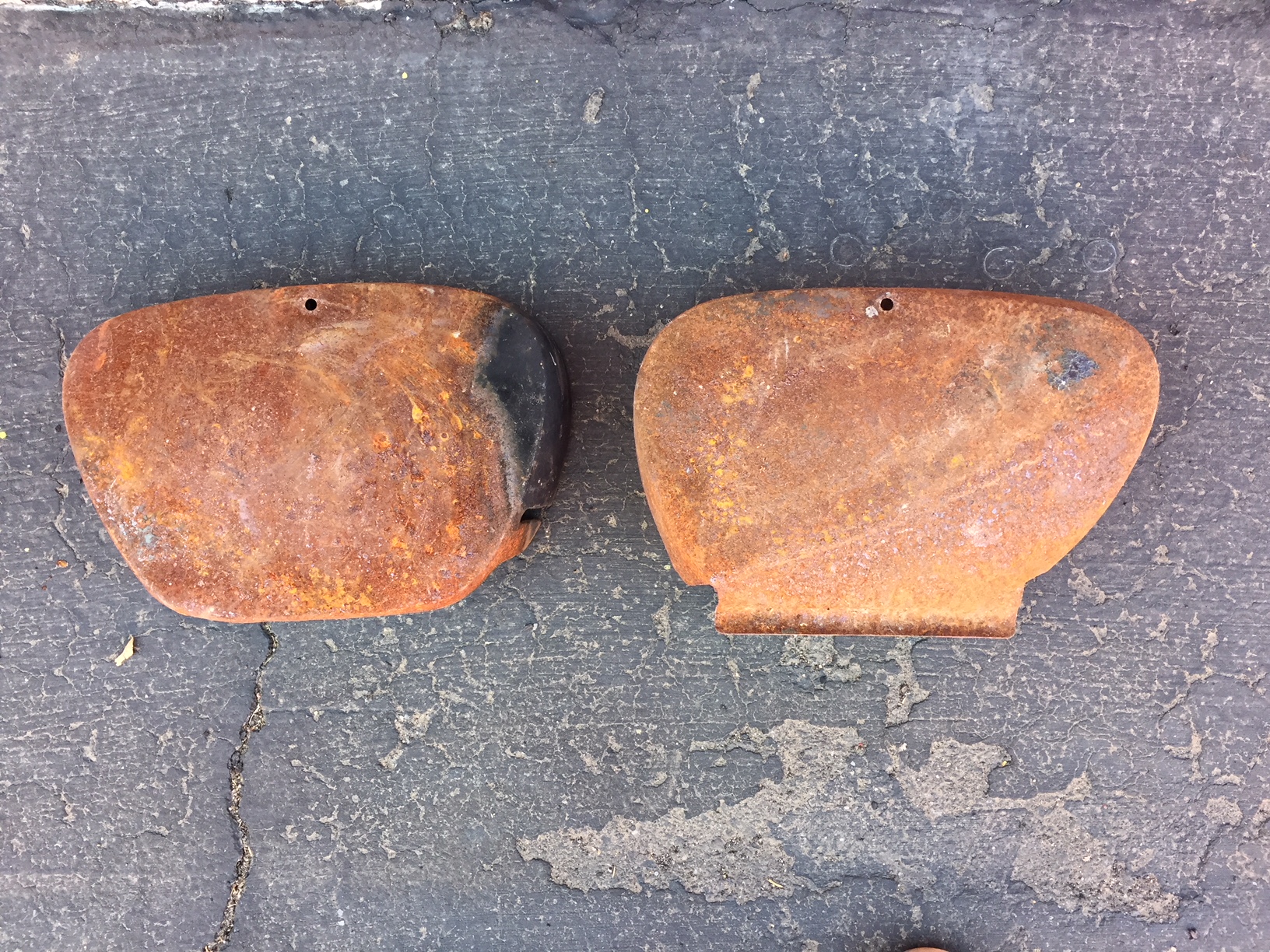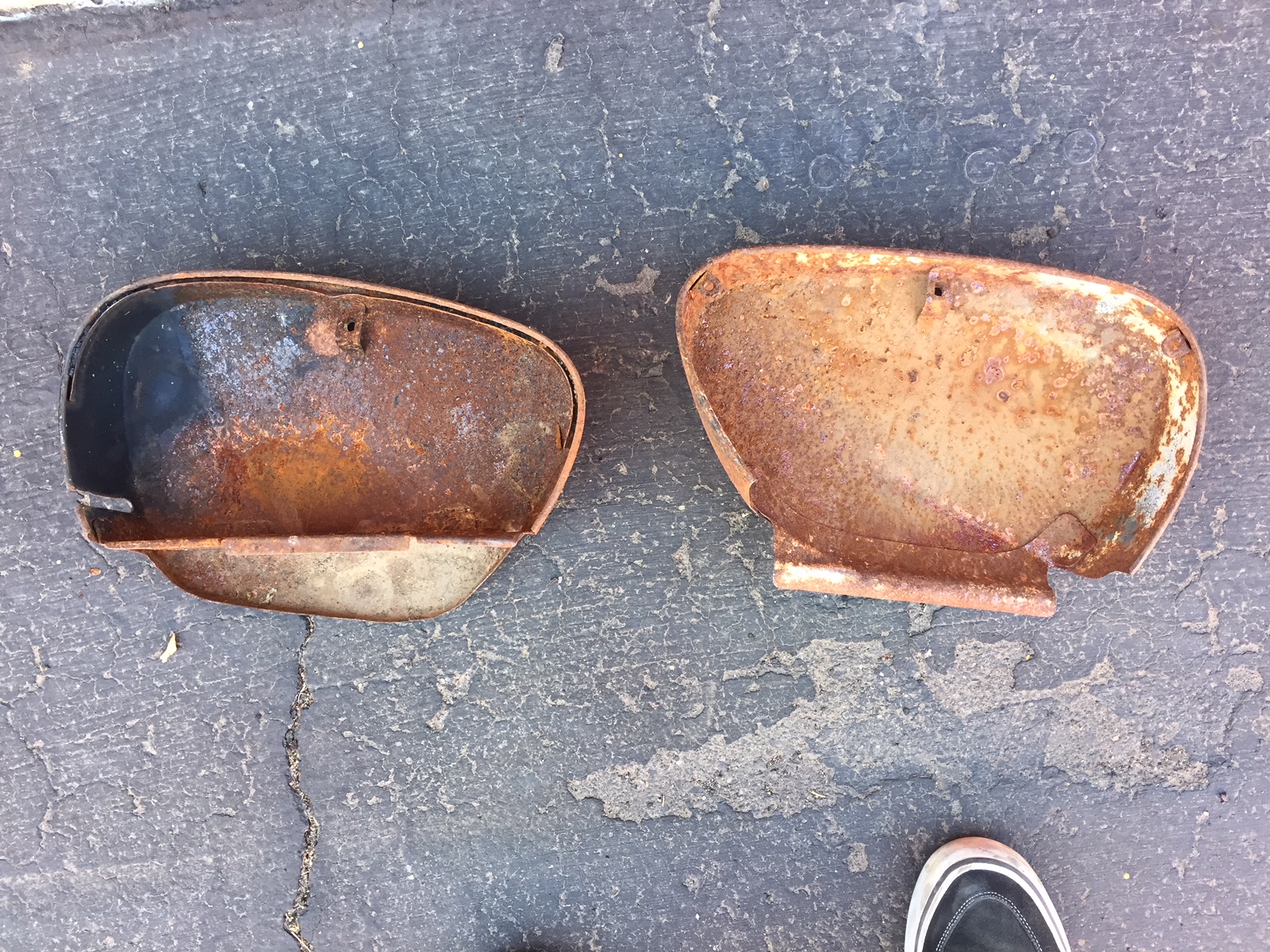 'unidentified side covers -- came with a CB77 but didn't fit ????
CL175 (not sloper) tank, original paint, missing one emblem, needs recoqated or cleaned: $20
CL160 tank, pretty straight, needs cleaned, no rubber: $40
Yamaha tank and seat pan – can't remember the name of the model, was a small displacement bike. I got the tank and set pan to café a 160 – fit and looked killer. $100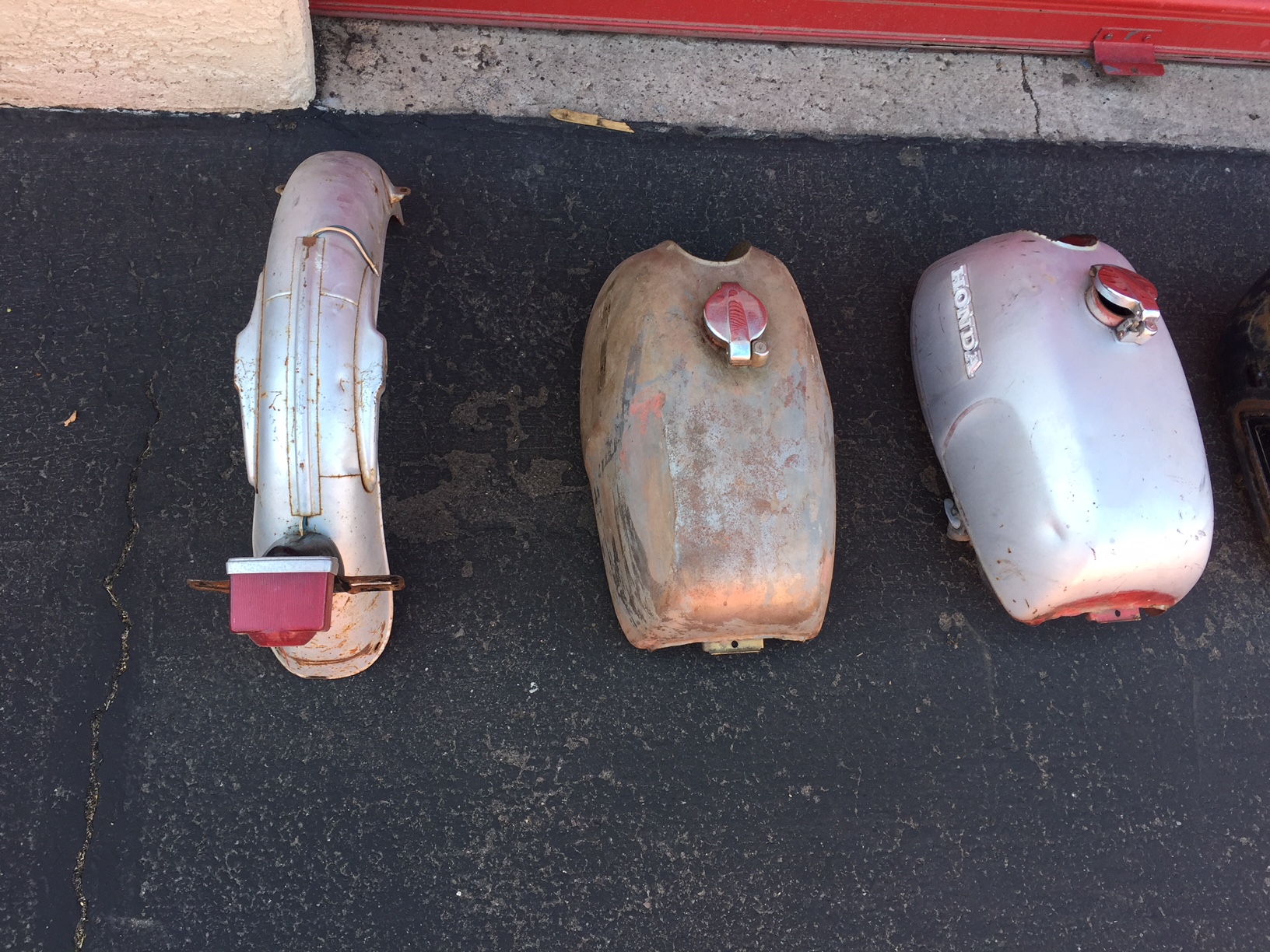 CB350F tank, very straight. Brought it down close to bare metal, got a little filler, inside recoated with Redkote and hasn't held gas since: $100
CB350F tank, silver (undercoating), couple small dings, with petcock (will sell petcock separately): $80
CB160 rear fender, tail light assembly, straight, needs paint: $50