Discussion Starter
•
#1
•
note: I initially posted this to hondatwins.com, but the owner of that site suggested that this is the more active board, so I'm moving over here - hi!
-------------------------------------------------------------
hi - I'm wes and this is claudia, my first motorycle - she has the brains (engine) of a '72 CB350K4 and the body (frame) of a '73 CB350G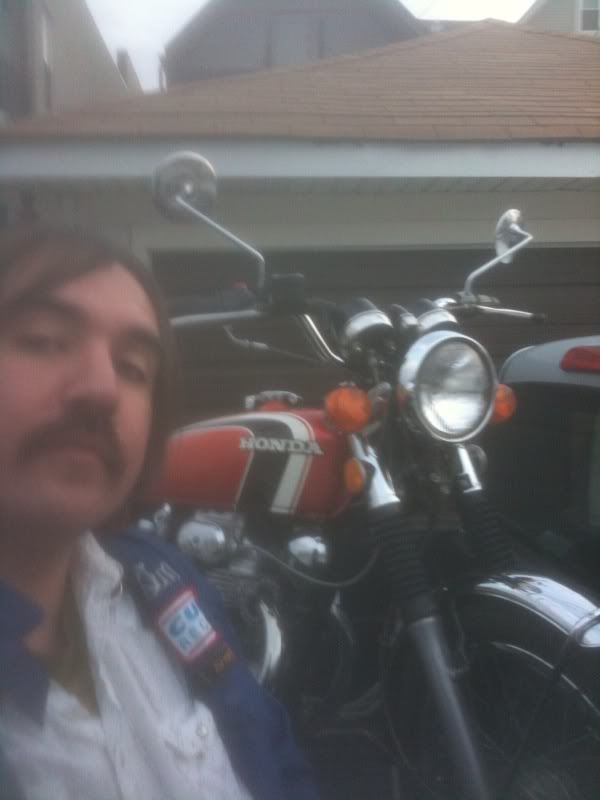 I bought her from a dude in the suburbs in the beginning of April - in the middle of May, we got in our first accident - dude wasn't paying attention and he t-boned us - I survived with a sprained ankle, sore neck and scraped helmet - claudia was in pretty rough shape - I got her to a local vintage bike repair shop and they got her road-worthy, but she was still a little dinged up
the day I got her back, the gear shifter slipped and I drove it back to the shop the next day in second gear - they tack welded it back on as a short-term solution to last me through the summer - the next day, the tack weld broke and the gear shifter slipped again - on the way back to the shop I decided to take the highway thinking that it would be better because I wouldn't have to shift so much - but then there was an accident on the road so traffic was stop-and-go for miles and it was about 95 degrees - the bike started overheating and stalling and finally got stuck in some phantom neutral between gears - I pushed her about a mile to the shop where they did another tack weld that has held for 2 months!
I ruined my clutch on the highway that day, so a week later I got some EBC clutch plates from ebay and, with a LOT of help from some great friends, did my first repair. the gasket on the right crankcase cover was dry and brittle and came apart while we were working so I had to replace that as well
I had a lot of trouble the engine drain bolt - we tried a breaker bar and even a pneumatic impact wrench and it still took us about a half an hour - I also had some issues with screws on the crankcase cover, so I ordered a set of stainless steel hex bolts (from alloyboltz - check them out on ebay) and some permatex anti-seize and I'm replacing the screws as I go - I've done both sides of the crankcase cover, but this set has replacements for lots of other engine pieces that I haven't gotten to yet
I've got lots of oil leaking out near my left sparkplug. the outer gasket on my points cover was like the one on the crankcase cover - old and dry - I bought a set of cb350 oil seals (from bore-tech.com) and a full gasket set (from ebay somewhere) and started to pull off the points housing when I stripped a screw - I drilled into it and tried using a screw extractor which snapped off - the guy that helped me with my clutch plates recommended using a nail set which worked perfectly and got the screw out in a matter of minutes
so last night I was finally able to get the points housing off - for those out there that need to remove the points housing, note that the engine needs to be in a certain position to do it - I read that the left side had to be at TDC - I set my rotor to LT but still couldn't get it off, so I spun it around slowly and tugged on the housing as I went until I felt it loosen up and finally got it off - as expected, the inner gasket was dry and old and stuck to the housing - 15 minutes with a razor blade and I just now got it all off
removing the oil seal was really tough - in desperation I googled "how to remove oil seal cb350' and found a BMW-centric site where the author stated "removing the oil seal is a matter of brute force" - this is no lie - I finally grabbed the thing with a pair of pliers, stepped on the housing and pulled with all my might and it came out
I noticed that the inside of this housing has some terrible scoring where the cam enters it as you can see in the following pictures:
http://s88.photobucket.com/albums/k165/ ... -102-1.jpg
http://s88.photobucket.com/albums/k165/ ... -105-1.jpg
http://s88.photobucket.com/albums/k165/ ... to-112.jpg
I have no idea what caused this - the cam doesn't appear to have any damage - it's got a light color streak around the middle, but it feels smooth
http://i88.photobucket.com/albums/k165/ ... o-93-1.jpg
.... and that was how I spent my summer vacation
today I'm going to finish cleaning out this points housing, replace the seals and gaskets and reassemble it. then set my points and timing.
hopefully this will all hold until it gets too cold to ride at which point I'm going to find a garage somewhere and take the whole bastard apart, clean everything and put it all back together. I also need to get that gear shifter off - I'll probably use my dremel - I've got all the parts I need to replace it so it's just a matter of time and taking that right crankcase cover off again - I hope the gasket holds.
-w