Discussion Starter
·
#1
·
Hello, It has been a bit since ive posting on the forms and i am feeling inspired to start a project log on my cm400e.
I know, i know... same old same old but different lol.
For a brief overview, i was looking for a motorcycle, came across a cm400e (Didnt know nothing about nothing and still dont), listed for 1000$. I was inspired my watching a youtuber, Mustie1. I said, i want to do that, and bought one. Funny thing, i bargained and said that i would purchase it if they included a gasket set. The gentleman that i met was selling it for his wifes father, the bike was sitting since 86, its an 81. It had oil, didnt turn over, and the crash bar was dented in something awful on the drivers side left foot. Nothing too too bad though so i thought, "Lets send it". Before i knew it, i was in it more than i paid for it and still didnt have a fully operational carburetors just yet (the screws were shut in and an easy out broke off in the bore). Multiple adventures with gas tanks and rust removal, (great results with metal rescue Concentrate) on and off, and multiple days of sanding and priming, painting and such. After getting some for like 40 bucks, used, i used the first go-round knowledge to do these right. Fully running, time for tires. Got new ones, (Durros) and am just waiting for something to happen, I want to sell it so i can move out comfortably and be ready for next semester, or keep it and use it (i have no license yet). If i were to title it and register it and get my license, we are talking close to 800$. Id like to hear others thoughts if willing.
To get it to 100%, i need to look into rebuilding forks, seals are dirty and what ever fluids are left over are wiped over the forks after a small ride. I also need to find a way to test or just replace rear shocks, and then replace handlebars, OEM are kinda wide for my taste. also the bike rides ever slightly pointed straight, it goes right. Might be in forks, might be in handlebars, i have no idea. Any ideas on how to check or fix anything??
Also, chrome headlight housing has small dent and i see a post for this one on ebay,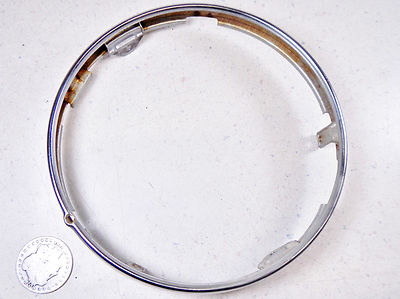 Find many great new & used options and get the best deals for 81 HONDA CB750K CB750 FOUR K HEADLIGHT HEAD LIGHT LAMP TRIM RING RIM at the best online prices at eBay! Free shipping for many products!
Expensive!! anyone got options else where? is there another one from a similar bike that fits for cheap?
Thanks for reading