After getting my new forks from Franks I found that the old ones had inserts in the bottom ends that the new ones didn't have. These inserts do not show up on the parts fiches. The end of the tubes on the old ones were peened so the inserts would not just unscrew.
The top part of the insert has two cut out spots to twist it out with which is where the tube is peened. I ended up using a dremel tool and ground out the openings in the tube.
After consulting with other forum members I took an extra oil filter socket I had and cut two of the tabs off and ground down the sides of the remaining two tabs to fit into the slots of the insert.
I used a hammer drill with the socket and removed the slotted section of the insert. Below this part is a smooth sided section (1 1/2") with a tabbed insert inside the upper section of this insert. There is a shoulder inside the upper end of the smooth insert that the tabbed insert sets on with the tabs facing out. Above this insert is a washer which sets between the smooth insert and a shoulder on the inside of the tube.
I then cleaned out the inside of the new tubes and the insert parts from the old tube. I placed the washer in the new tube, placed the tabbed insert inside the smooth insert with the tabs facing out, and then placed the smooth insert section into the fork tube. I then screwed the end tabbed insert section into the fork tube. I will be peening the new tube at a later time after getting some loctite to apply to the threaded section.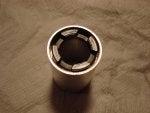 I have been told that this set up is specific to the sl350 k2 and not earlier versions.