So, this post is starting about halfway through my "restoration" project, but I thought it would be fun to share my progress. This bike used to be my uncle's, and it's the one he rode when carving up the winding roads of central Ohio with my dad when I was just a kid. Everything was there when I got the bike, but it wasn't perfect. Lots and lots of cleaning and polishing to get it to a good "baseline". It runs great, but needs a little mechanical attention, like a front suspension rebuild (hoping the forks just need oil), new tires and some tweaking and tuning. I had originally intended to do a mild cafe treatment on the bike, but the more I look at it, the more I love it like it is (save for the handlebars and lollypop mirrors).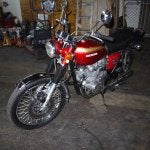 Before - the pictures are actually much more flattering than the reality.
Lots of nasty yellow clear coat and an incorrectly painted side cover.
The front forks were truly nasty (again, they look much better in the photo).
Lots of oxidation and discoloration.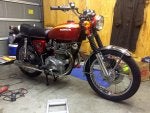 As she sits today. I didn't take anything off the bike to polish it, but that will come later.
New petrol cap and various rubber bits.
Cleaned and polished engine bits.
New shocks (at least until I can rebuild the originals).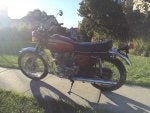 Definitely not a show-winner, but clean and pretty...in my humble opinion
More to come later...