Discussion Starter
·
#1
·
Hello all! Happy to be joining this community after already referring to many helpful discussions had on here during the few weeks I've been working on my
new-to-me
'74 CB360. He needs a little bit of everything it seems and as a total motorcycle n00b I need all the help I can get! Here he is as I got him early this May, 2015
After sitting in a garage for 3 years, the carbs were as clogged as you can imagine. I did manage to get him running after rebuilding the carbs!
He still needs plenty of work, though, which is why I am here. Namely, I need to work on the starter clutch in addition to typical tuning/timing issues. I'm working with a few friends and between the 3 of us we have FOUR cb360's at different levels of completion. Good for parts! We're looking to make 3 complete restorations and use the 4th frame to do some funky chopshop build :twisted:
While I work on the CB I got this little CM185 to ride:
This 'lil guy is on loan from my big brother until the CB is up and running, but I want to return it in better shape than I got it. It's little 6V battery won't hold a charge so I'm thinking there must be something up with the alternator.
My other loves include Huck, my border collie/blue heeler, and my dinky little moped ('80 sachs g3):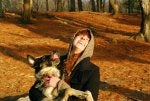 <3<3<3
NICE TO MEET YOU!!!!:grin::grin::grin::grin::grin::grin:!!!!
-Mary Kate P.