Discussion Starter
·
#1
·
Alright, so this bike didn't have any major issues after I did some basic work, (chain, sprockets, oil, brake fluid, master cylinder, brake shoes) for a clean looking bike, it's actually pretty dirty and it seems that most of the rubber is not in great shape.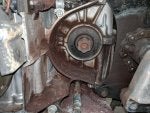 (crank case after I scraped out the deposits but before I cleaned it)
Last weekend I decided to remove the fuel tank so I could easily replace the vacuum hoses (in an attempt to ferret out a gas build up in the airbox) and I pulled the cylinder head cover to wipe it down and check on that gasket (hard and cracking, replacement otw). Well the left side bolt came out fine, right side cylinder head cover bolt snapped (Another lesson learned). Now I'm all about figuring it out myself, but bolt extraction like this seems it's best left to the pros.
As I've already done enough damage, my next step is to remove the camshaft holder but I cannot get a single one of these cylinder bolts to budge. Torque spec is 22-24 ft/lbs and figured I should ask for advice/tips to get these suckers out so I can get the camshaft holder bolt extracted. Obviously I now live in fear of snapping off another bolt and don't want to orangutan anything.
Much appreciated!