Discussion Starter
·
#1
·
I am rebuilding a CB450 K1 rear end.
Having read through the forum I thought the rear wheel bush/dampers might need replacing. I put the sprocket bolts through to check if there was any major play, and discovered the first issue; one was a different size compared to the others.
Looking at how they sit with the sprocket in place I think I have 3 right and one wrong.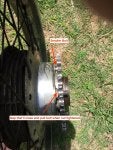 Can anyone confirm that the smaller one is incorrect?
Noticing that there was a gap between the bolts and the sprocket, which would pull the bolts up out of the bush when the nut was tightened, I looked more closely at the bushes themselves. They don't sit flush on the bottom of the housing and are recessed somewhat at the top.
My best effort at measuring gives the dimensions of the housing to be ID-26mm and depth 40mm. The bush seems to be OD-26 x ID-12 x W-32(wide/long/deep). The 8mm difference in depth would tally with my best measurement of a 5mm recess at top and a 3mm gap at bottom.
If the bush sat flush with the housing at the top, then the sprocket would sit on both the hub and the flange of the bolts; which I assume is the way its meant to be?
Any thoughts would be appreciated, especially on the correct size for the bush/damper.