Discussion Starter
·
#1
·
Hey all! I am new to the forum and wanted to post my project log up here. I don't normally do this kind of thing, but since the bike I have isn't well documented online I figured I would document my journey here.
I found a 1990 Honda CB125T on craigslist a couple of weeks ago. The guy was selling it for cheap and wanted it gone, and since I was a few drinks in I decided it would be the perfect project bike! When I bought the bike I didn't know anything about it or it's history, all I knew is that the motorcycle *kind of* ran. Looking at the motor the gaskets on it actually look somewhat new and I have a feeling the motor was rebuilt not too long ago.
When I brought the bike home I did some research on it. Turns out this bike was one of about 2000 that were imported into the United States, and they were originally used to teach people how to ride motorcycles. The original bike had a light bar on the front and back which would tell the instructors which gear they were in, if there were going over 20mph, and more. Well, the bike I picked up didn't have the light bars anymore (or any lights at all actually) but that's ok because I plan to make this bike street legal again.
When I brought the bike home I made a list of obvious things that were wrong with it:
1. Engine ran-ish. It had no real power and seemed to bog down if you opened the throttle.
2. Carbs constantly drained if the gas was on.
3. No front brake level or Master Cylinder
4. Bike is hot wired on and has no battery (so the only way I was starting it was by bump starting it)
5. No lights, turn signals, or speedometer/tach.
6. Exhaust is smokey (can't tell color since I only ever ran it at night
)
7. Other Misc items like air boxes barely hanging on, seat ripped, gas tank leaks, etc.
So far I have been able to identify a few direct issues and either fixed or are in the process of fixing:
Carbs leaking -- After spending hours troubleshooting why the diaphragms in the carbs weren't working properly and why they were leaking like crazy it turns out the person before me had hooked up a vacuum line to the fuel tank. This was causing fuel to flow into the diaphragms of the carb, which would then flow down into the bowls and start over flowing. After running a new fuel line with a filter in the middle the carbs don't leak anymore! Yay! This also seems to fix a bit of the power issues, but it still needs to be tuned and tested for more then a couple minutes. I also installed new air filters and attached the air-box properly to the carbs/frame.
Gas tank leaking -- Because the gas tank leaked when I filled it up, I haven't been able to do a whole lot of testing and tuning of the carbs yet. I took the tank off and used wire brushes to get the paint off. After removing the paint I found a bunch of little holes along the bottom of one side. After hours of cleaning the tank I decided the best thing to do was use JB Weld to fill the holes and then once it was cured line the tank with red-kote. I have completed this but I haven't put the tank back on yet since leaving it off gives me easy access to the wiring and I want to fix that up a bit first.
No front brake -- I ordered a used Master Cylinder online, installed it and found out I was missing the second banjo bolt for the brake caliper. I ordered that and received it this week. Then yesterday I found out the brake line is clogged (and I tried and failed to get it unclogged) so I am now waiting for that part to come in. Hopefully there isn't anything wrong with the caliper!
Electrical -- So far I have been able to remove the second wiring harness that was used for the additional indicator lights. I have removed all the components I could from that. I still need to terminate some of the ends to make sure I don't have any shorts. I also ordered a service manual for this bike and have been reading the wiring diagram to add an ignition switch that I ordered online. Once I get the ignition switch hooked up I plan to install a battery, and hook up the turns signals and lights I ordered for the bike. I plan to get this done this week so I can put the tank back on.
I'll post more updates here once I have them. Since I have the service manual for this bike I plan to take the pages out and scan them. Once I do so I will put it online for those who happen to have one of these bikes so you don't have to order it. I went ahead and scanned the wiring harness today and have added it to this
public Google drive folder
. I will post an update to this thread once I have added the full service manual.
And of course pictures are attached of my work so far.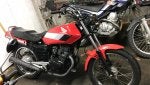 Let me know what you think!