I ordered this item off Amazon and it works like a charm. I can now easily and without spilling remove a full gas tank on my '72 CB175. It only cost $11!
https://www.amazon.com/gp/product/B01BHI5NYQ/ref=oh_aui_detailpage_o00_s00?ie=UTF8&psc=1
Fuel Gas Line Quick Connect Disconnect
1/4" Motorcycle Atv Dual Shut Off Black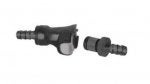 Unfortunately it looks like its now out of stock, but this appears to be the same thing in white for $34:
https://www.amazon.com/Motion-Pro-Quick-Disconnect-Shut-Off-Coupling/dp/B002OMPFQQ/ref=pd_rhf_dp_p_img_11?_encoding=UTF8&psc=1&refRID=Q5RPNAX9F7XQKDMAJ6MK
When I first connected it the two halves didn't want to get "in-line" due to the stiff gas line and even though it clicked shut it leaked. I re-did the connection keeping the two halves in-line and now it's leak free.
1/4" gas line fits the connectors and the tank tube weldments perfectly:
And since everyone loves pictures here's the bike. She's running great! -Russ :grin: