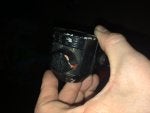 So I have been missing the 2nd throttle cable for a while.
I figured it was time to buy one while I have the whole thing in rebuild mode.
Bought one from 4into1.
https://www.ebay.com/itm/Reproducti...e=STRK:MEBIDX:IT&_trksid=p2057872.m2749.l2649
this one
it does not fit.
Did they send me the wrong one.
here are a few pics to make sure I do not have the wrong housing.