Discussion Starter
·
#1
·
I've always loved CB's, but, being a rather large hombre, I wondered about the likelihood of a CB350 being able to carry me. As a novice rider, I have to admit being a little intimidated after sitting on a '79 CB750 Supersport.
Enter the rather homely 1976 CB500T I've just purchased. It's a runner, but it's definitely not a looker.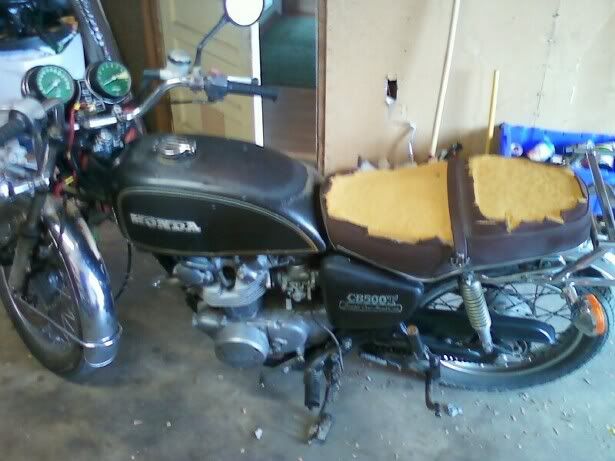 Serious problems I'll need to deal with before riding:
1. No title. Where does one find the VIN number on a bike? I found one long number stamped into the left side of the tube on the front of the frame, but it doesn't look like a VIN to me.
2. Front brake doesn't work. At all.
3. Needs at least a new front tire. If possible, I intend to do the rear tire at the same time.
4. Chain tension needs to be adjusted.
5. Oil needs to be changed.
Less serious problems to deal with soon:
1. No ignition switch. Previous owner simply wired an on/off switch to it. (Anyone have an ignition switch for this bike that they'd be willing to part with?) It fires up the first time, every time. Mechanically strong bike.
2. Light surface rust and some pitting on the chrome. I think some polish and paint are in order.
3. Some dents in the tank. Need to have them filled.
4. No upholstery left on the seat, just dried out foam. Needs to be re-foamed and reupholstered.
Ultimate goals with the bike:
1. Repaint and build a bike that is ultimately cafe racer influenced, though not a straight cafe racer. I can't imagine clubman bars being comfortable.
2. New paint job, probably done by me, with rattle cans, in my garage. Though I do have a compressor and a paint gun... never used 'em though.
3. New custom exhaust.
4. Become a proficient rider and make this bike a means to learn and practice new skills that will allow me to ride something like that CB750 Supersport without being intimidated.
I'm also after all sorts of parts for this bike, including an ignition switch and a seat lock, but I can't seem to find them reasonably priced anywhere. I just contacted a place in KS about those two pieces and they wanted $190 for them. That seems exorbitant, especially considering I don't really
need
the ignition switch since the bike starts right up when it's kicked.
Anyway, looking forward to rebuilding this bike, chatting with some of you, and learning a whole lot about restoring and modifying along the way.