In December 2016 I finished restoring a 1965 CB160 which I then sold in January 2017. My first bike at 16 in 1976 was a CB160 so I'm always on the lookout to help save another one (or CL160, CL77, CB77, etc.) Restorable examples seem to be getting harder to find so when I saw one on ebay last October I had to get it even though it was up in Wisconsin and was in pretty rough shape: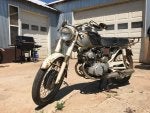 Engine was partially stuck when I got it. It would rotate a bit then lock-up. Somehow a small pebble had gotten in there and was getting pinched between the piston and the exhaust valve. Engine needed:
one new exhaust valve
two new sets of rings
a hone
carbs vapor-blasted and rebuilt
starter motor rebuilt
through cleaning
some paint and polish and it fired right up.
And here she is after an 85-day-long frame-up restoration:
Paint is House of Kolor Euro Red and Orion Silver. The silver is a bit more "blingy" than Honda used, but I like it and have used it on three restorations so far.
I still may try to save the original mufflers, but they need the last 1-foot of each of them to be completely rebuilt with new metal.
I will post up a few more pics of the process.
She'll be up for sale soon after I enjoy her a bit. Thanks for looking.