Discussion Starter
•
#201
•
Screaming Tiger, I have a quick question for you, my motor is out for teardown and parts checking and I'm about to learn what gasket kit and parts/rework I need. 21k OEM miles.

What gasket kit / headgasket did you use? Did you like them?

I'm looking at the 4into1 set right now as they have a series of kits, one including pistons and rings (0.25mm over)
Im no expert. ZBut I used the vershah kit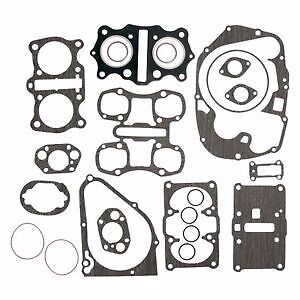 NEW Vesrah Honda CB350 CL350 Complete Engine Gasket Set. Complete gasket sets include all necessary engine gaskets, O-rings and valve guide oil seals to rebuild a complete engine (do not include oil seals); sold each.
You will need to buy the correct orings for the base of the cylinders. The ones that come in the kits are too thick. I stuggled with mine but no leaks so far.
From my understanding, .25 over wont do much. Whatever you do, do not buy from Cruisin Image!