Discussion Starter
·
#1
·
Back in January of this year I purchased a very ugly, in need of rebuilding bike. Unfortunaltley without title ( that's another story/ Thread ). Now I've NEVER rebuilt a bike at anytime in my life ( owned a bunch over my life ) and even my wife tilted her head when she heard what I was going to embark on. So this is my build so far :
The Bike when I got it home ( the holes in the tank are from when the last guy who owned it got bored and took his .44 mag to it - tank is totally rusted in and out. It was off the frame when he used it for target practice ) ;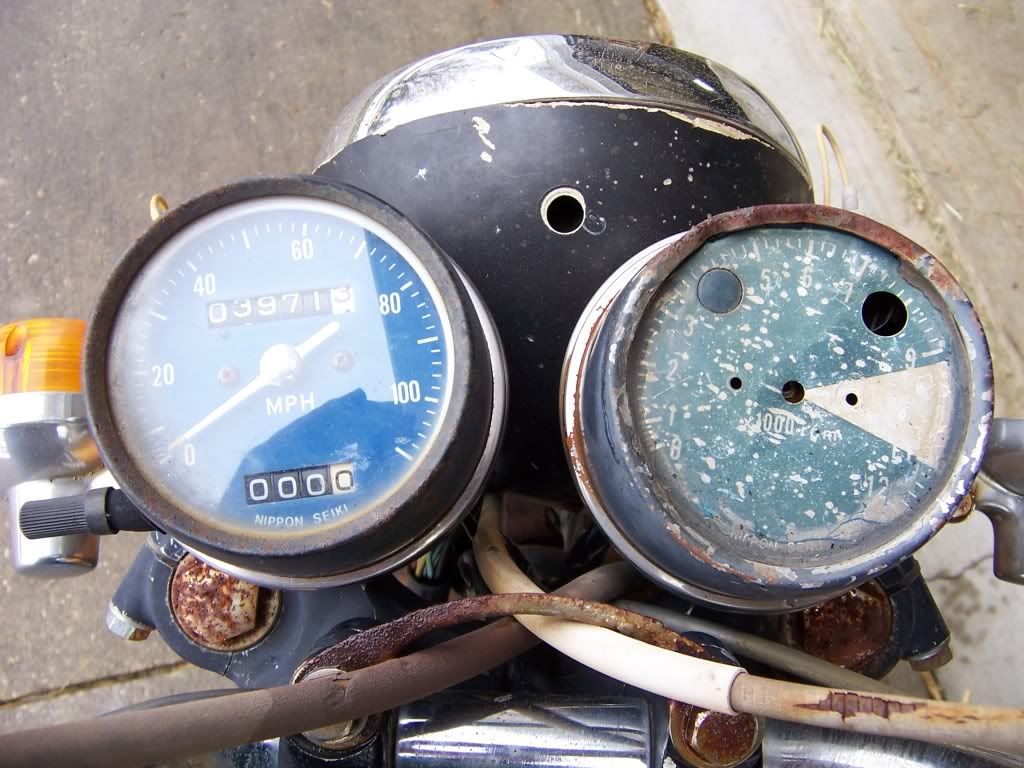 Got her torn down to the frame :
after I got the tear down complete I cleaned and primered ;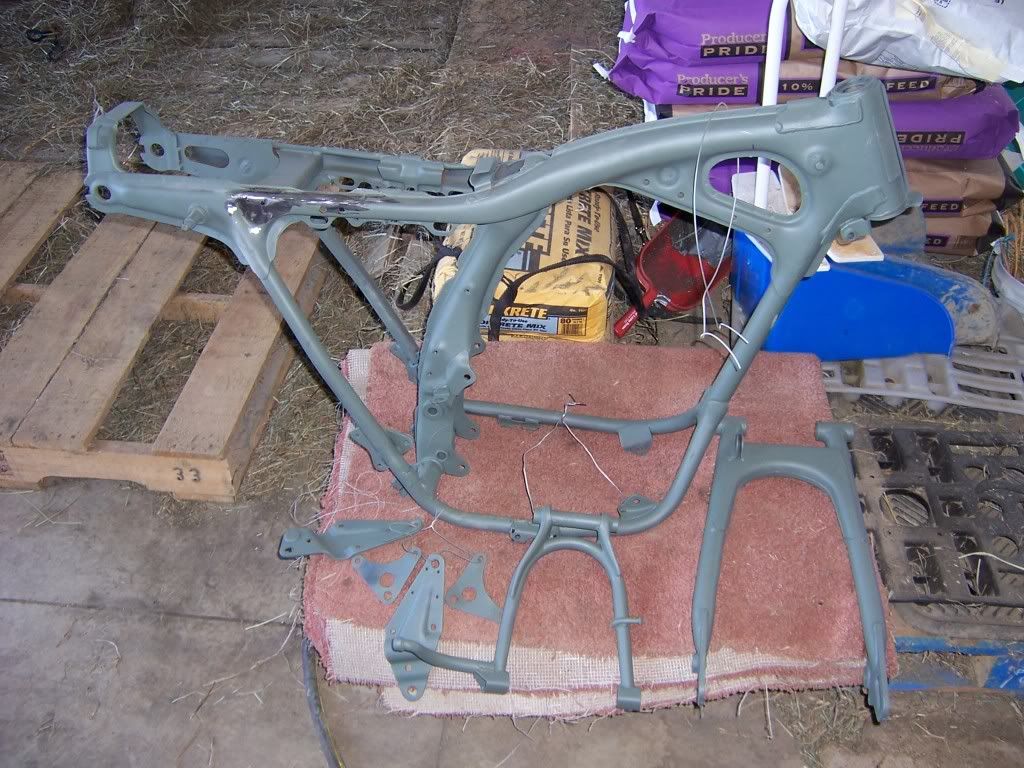 My Paint booth ( slash garage/strage area ) I'm using the Duplicolor etching primer then high gloss black on the main frame and other tid bits: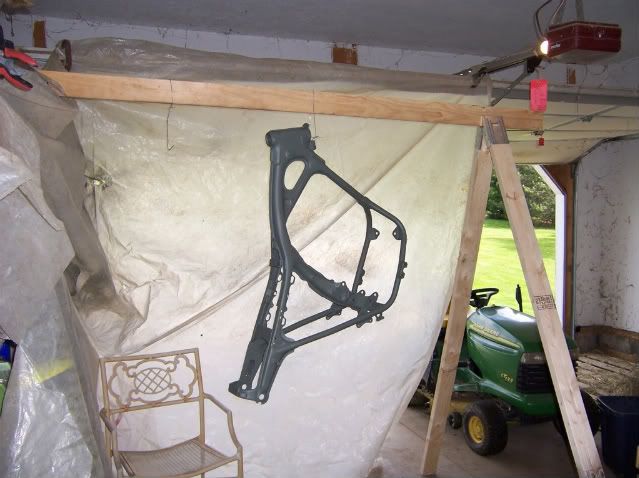 As my original top tree snapped on the right side fork ( gee that never happens ) I found a 72' CB350F top ( yep it fits perfectly) on fleabay that the guy had stripped the paint off and I used my upper clamps on top, I will not be using the top light bar that came with it, to stock looking.
Back in June I picked up a set of used rims ( with tires ) for 40 bucks, hell of a deal. the front tire is new but it was going on his chopper build ( tossing that out ) the rear tire after I went over it has no cracks and is a 4.5" width - Perfect !! This is a comparison shot of what my rim looks like and what I did to the new rim with 180 grit on the spokes and a wire wheel on my hand drill. I also learned alot about how the sprocket set up is to be installed. that was a real fun day for me (seriously)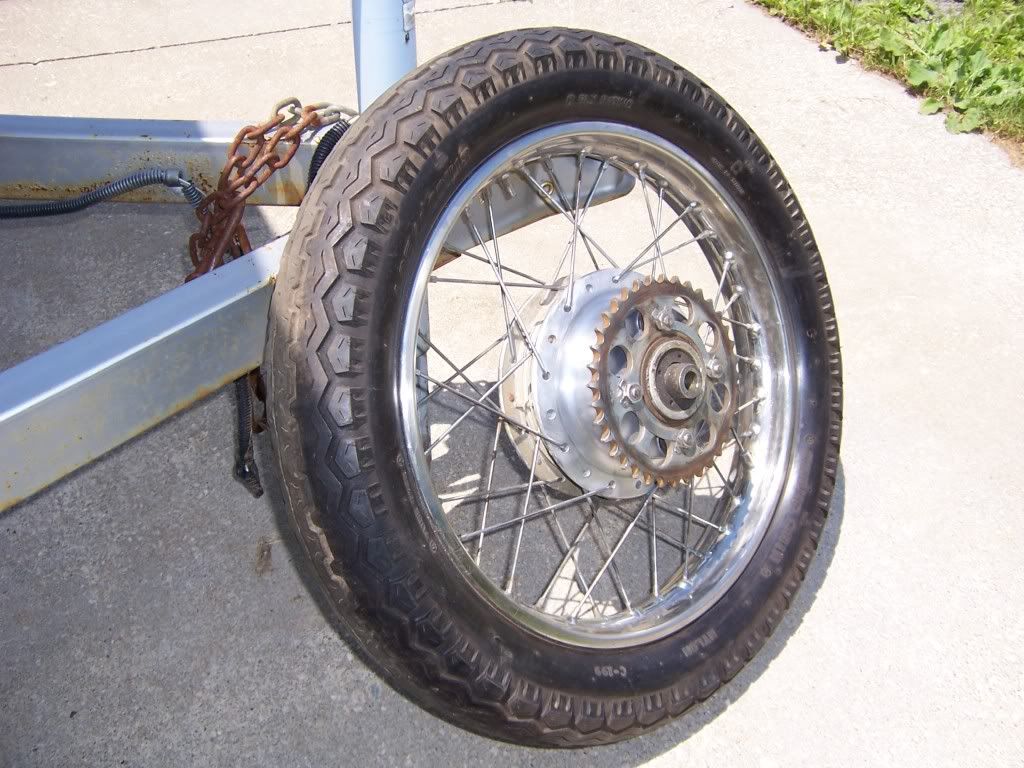 I'm Now at the point of replacing the steering bearings (bearings from allballsracing ), what a job this is turning out to be. The bottom race on the top of the stem came out no problem, the bottomside not so much I'm still banging away on it, I'll get it out one way or another ( yes, I've tried heating the main tube for expansion ).
So that is where I am so far on this project, you guys are getting the story in one lump some as I've posted this on two other forums that have taken me alot longer to see the results thus far.