Discussion Starter
•
#1
•
71 CB350.
I have had this running for 3 months now after a 10 year layoff.
This is my third oil change, first one for obvious reasons, second when changed to Rotella T, third one for starter clutch rebuild.
During the starter clutch rebuild, the only part that I found in the alternator where the starter clutch bits should be was one spring.
It runs good, having some issue with at high RPMs. I am currently working on replacing the condenser and rectifier/regulator.
After that, move on to the points/timing.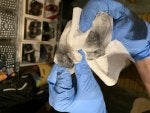 Attached are some pictures, this is what I am finding in the oil filter, metal bits.
Should I be concerned about how much metal is in the filter and the plug?
Thanks!
--Chuck