Discussion Starter
•
#1
•
Hi All,
thanks for taking the time to read. I've been rebuilding my bike ('72 CL350) off and on again due to "life" getting in the way. I've found some time to get back into it and was able to put in the crank and transmission today. I found two issues that I need to resolve before buttoning up the cases.
First, I noticed that I am missing one dowel pin. What I find strange about it, the missing dowel pin does not to seem to serve a purpose as it does not correspond or recess into the bearing closest to the the alternator side. See images attached:
As per the manual there are three dowel pins and a locator pin (green arrow)
I am missing the far right dowel pin in the above photo.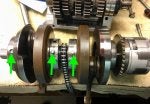 In this photo you can see the recess in the far left bearing, the two dowel pins in the centre bearings, and none (and no recess) in the far right bearing.
The arrow is pointing to where the dowel is supposed to sit (there's not even a hole deep for it to sink into - it just sits there). And the bearing has no recesses for it to locate onto and doesn't seem like it would do much good even if I had the dowel pin - the other three pins seem to lock the crank in place.
Secondly, I'm also missing the black rubber sealing ball that goes into the oil passage in the upper case. Does anyone have a spare that I could buy or know of where (other than CMS) to get one? I did an eBay search but no luck.
Any suggestions and knowledge passed on would be greatly appreciated!
Cheers Fellas.