Discussion Starter
·
#1
·
I'll begin at the beginning. I know just about nothing when it comes to motorcycles. For that matter, I've ridden one maybe 2 or 3 times, 20-odd years ago (up and down the driveway in 1st gear on a Kawasaki 90).
The
only
things going for me is that I don't mind getting my hands dirty and bicycled for years. So, naturally the wisest thing for me to do is get a 1976 Honda CB360: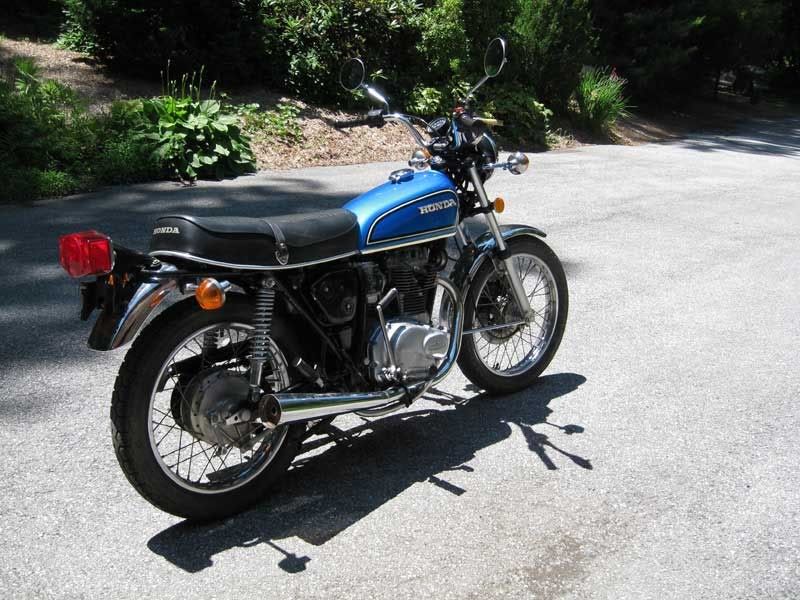 It's in great shape. In fact, it's in such great shape that I suspect that this wouldn't be much of a project for the old hands out there. An hour of tinkering and off you'd go. Those people can consider the following an opportunity to smirk at me.
Okay, so the bike was in great shape when I bought it last spring. The headlight didn't work, the starter didn't work and the sidecovers were brittle. That's it for problems -- it ran fan fine.
I took it home where it sat in the garage for a while.
Part 1: In which I misuse a multimeter
The headlight bulb checked out as ok. I randomly checked connections with my multimeter. When I say random, I mean random. I didn't have my Clymer's manual yet, nor did I have the downloaded manuals at the time. The multimeter told me nothing (duh).
So, for a while, the bike's job was to sit there, a physical avatar of my failure. Periodically I'd go into the garage with a beer and frown at it. Sometimes I'd kickstart it and let it run for a few minutes. I'd frown at it some more. Once I threw out a broken blender and showed it to the bike. I raised my eyebrows meaningfully as I dumped it in the trashcan. Sadly, this holistic approach did not get the headlight working.
Then one day I whanged the right-hand control box with a rubber mallet to see if I could shake loose the starter button (if that was indeed the problem with the starter).
Lo, the bike fired up with the starter. But what's that sound? It's the starter. It won't turn off. Gotta be switch that I just whanged with a mallet.
I ordered the Clymer manual and, with it in hand, I felt confident enough to open up the control box. I got some contact cleaner, sandpaper and an emory board. I bet it's gunked up and now stuck on. The pushbutton switch was in a several broken pieces inside. I dismantle the unit and disconnect the throttle cables for some reason.
Now I got some some stuff from a salvage yard and made a new switch. Looking at the wires and the components I realized that there was a headlight cutoff built in. Could that mean? ... Yes! The headlight now works, along with the electric starter.
Part 2: In which I don't actually break anything
Now I think everything is awesome. I hustle down to a local bike store and get a jacket and the best helmet I could afford on clearance (a Shoei RF-1000). I've got enough problems without a brain injury. Although, now that I think about it, a physical brain injury could be useful in explaining my behavior.
I spend some time zooming up and down my long driveway, mostly in first gear. This whole time the bike really lacks power. Idle is very rough and I get backfires.
Also, my throttle hand is aching after 15 minutes. It occurs to me that I didn't adjust throttle cable tension properly after putting them back. Yep, that was the case. Now it pulls easy with a little freeplay and returns with a positive snap. I am a mechanical god.
Then one day it won't idle at all. I can start it and rev it, but as soon as the revs drop it gives up and turns off, like a fat man running up stairs to answer a phone who decides to let voice mail get it.
Part 3: In which I learn the value of thoroughness
I study my various manuals. It seems to me that something in the idle circuit is not working. I check with knowledgeable friends who agree that I need to pull and clean the carbs.
I pull the carbs with the help of my buddy Jim and some Yuengling Lager. He warns me not to leave stuff lying around -- clean and put everything back before I forget where stuff goes. Jim, is there anything else I should do while I have stuff taken apart? Fool with the points and so on? He told me never to mess with something that's working. Wise, wise man.
I take his advice to heart and go to work with Gumout and a toothbrush early the next morning. That afternoon I put the carbs back in. That took more than an hour, especially the fighting with throttle cables.
I fire it up and ... same problem. No idle. I leave the the bike in a huff. Let it think about what it did. I'm going in to make dinner, read, maybe watch a little TV.
The next day it occurs to me that I didn't clean the carbs thoroughly. I didn't pay attention all the little ports and gimracks. I resolve to pull the carbs and give them a
thorough
cleaning this time. I go through a can of Gumout, two toothbrushes and a lot of compressed air. This time the carbs go back in a lot easier -- especially because I removed the battery for easier access to the throttle wheel dealio that the cables go into.
I fire up the bike. No dice. Can't hold idle, doesn't really want to rev, either. Wait, I didn't clean the plugs. All that idling can't have been good, right? Yep, they're dark and sooty. I clean them, put them back and ... the bike fires up and idles! It's still rough, even though I bumped up the throttle speed to about 1500-1600.
Time to ride. The driveway gets old, so I start riding up and down the long road in my development that leads to my house. Now I'm getting used to the bike and changing gears. It's fun! Except that I'm still certain there's a power problem. It barely pulls. The more I ride up and down, I discover that once in a while it pulls like a tractor.
Yeah, those carbs aren't really clean. They come off, get cleaned really, really thoroughly and go back on. Guess what? Bike pulls like a champ now. In a fit of affection I decide the bike will now be known as
Keiko
.
I spend long, sun-lit afternoons with Keiko, zooming up and down that road. I know it sounds boring, but we were happy just spending time together. Sure, the rough idle and backfires continued, but so what? Would I complain that Jennifer Love Hewitt's forehead is so big that it's a fivehead? I would not.
Part 4: In which I do break something
One day I climb the hill to the cul-de-sac and start to turn around a bit faster than I normally would. Maybe a lot faster. As I begin the turn I feel all the gravel underneath the rear tire.
Whoa
, I think,
that gravel is way loose. I better slow down so I don't
-- THUMP. I must've been doing 1 MPH. Well, it was bound to happen.
I look over the bike. Other than my new custom gear shift lever, it looks fine. I push Keiko back up the driveway and into the garage with the clutch pulled in (and it's still dragging).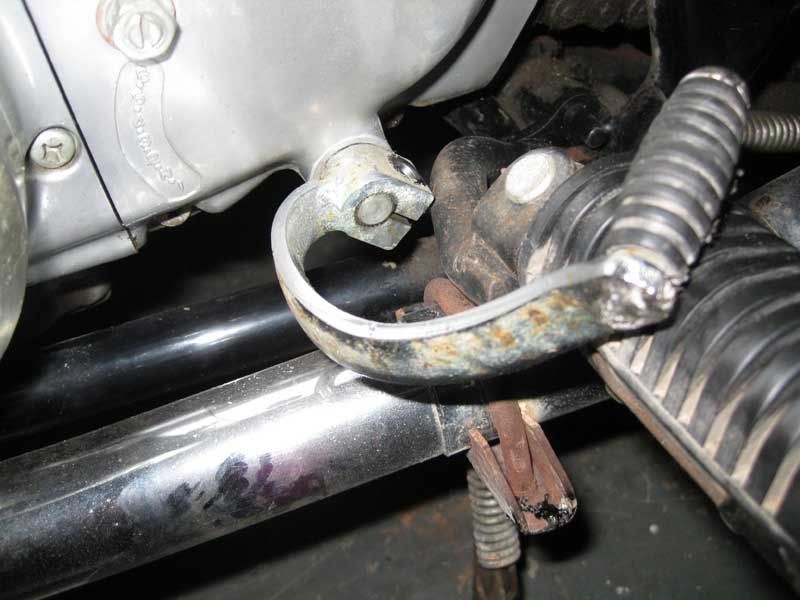 Fig. 2. My new custom gearshift lever.
In the aftermath I readjust the clutch, pull and clean the carbs (thoroughly!), and reconnect the lead for the rear taillight that popped out. I also order a new lever from Old Bike Barn that I
still
haven't received after two weeks. WTF? It said 3-5 days on availability.
Anyway, while waiting for it I
finally
realized that all my symptoms -- sooty plugs, rough idle, backfires -- point to a rich mixture. Lots of spilled gas later, I have them adjusted properly. And guess what? Smooth idle at 1200-1300. Clean plugs. And no backfires. I also install some inline filters just to be sure. I'm sick of cleaning carbs.
Part 5: In which I wait
I'd love to take a spin, but I can't -- I have no gear shift lever. I sent Old Bike Barn an email Monday or Tuesday, but I haven't heard anything. I was going to call today, but I see that no one is there on Friday. I sent another email and I'll try the phone on Monday.
So that's where I am in this long, ridiculous story.