Hello All
Pretty new to this forum - and I cannot thank people enough for the help and advice over in the Engine section.
Anyway, this project is already a little over two years old, so a lot has already happened, and I'm not the greatest at keeping logs / photos of progress....I'll try to get better.
A couple of pictures to start off, a kind of where we started from (ebay purchase of a clapped out, none running bike) to where we now (a much prettier, not so clapped out, but still none running bike).
Before (sellers garage):
After: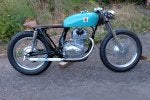 In my next post, I'll try and list all the things completed to-date, and list all the things that are still left to do (and there are always more than you think....and it'll always costs more than you think)
Jonathan