Hi all!
Just joined the club. I'm 57 years old and thought its about time I restored a bike from the period I was most fond of ie. the 60's or 70's. I owned a Yamaha v90 in 76, a Yamaha YB100 in 77 and a Yammy RD200DX in 78. Then marriage happened and no bike till 87 and a Honda CX500 which I liked the most out of all the bikes I had. Sadly that has now departed and I just bought me a CD200 Benly TA with a running engine and lots of rust for £25. Looking forward to stripping and rebuilding it. Doing everything myself because I'm a lowly hospital porter and can't afford powder coating etc. Hope I can keep a regular update going. . . . . . . . . .
Edit 28th June 2016 . . . . . . . Actually while I was owning the CX500 I purchased a rat Suzuki GSX250 for winter work. What a pile of junk that one was . . . . . . . . . . . !
Bike as wheeled into my garage one rainy day in January 2015
Wheels are in a bit of a state........
As is the swing arm. . . . . .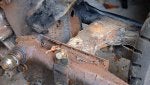 Just spent two hours with a drill and wire brush getting rid of some rust and paint off of the frame. You don't half have to lean on the drill to get anywhere! My arms are aching off and I'm frozen stiff!. Well it is still only February. Anyway done about half the frame. Just got a lot of nooks and crannies to do after the other half is wire brushed that I can't get at with the wire brush so its time to buy a bit of emery cloth and start rubbing!
Dave Silver Spares are really good as well. I order stuff and it arrives two days later. Excellent! I got the centre stand and swing arm pivot bolt from them and also the swing arm bushes that kinda melted in my attempts to heat the pivot bolt up to free it off. I ended up cutting the bolt into four pieces to get it out. It was mainly rust it would never have come out in one piece. So I'm ready to build the centre stand and swing arm back up just as soon as the frame is ready. I'm using Aqua Steel for the rust treatment and Davids Zinc 182 primer for the base coat but am undecided on the top coat. PJ1? Engine paint? Not going down the powder coating route as I want to do it all myself. Besides, hospital porters don't earn a lot! Heard bad things about Hammerite so I'm steering clear of that. If anyone knows of a brilliant, hard-wearing paint then please let me know!
More pictures soon. My hands are freezing can't feel the camera buttons...............!