There's a new pony in the stable. Well, a carthorse, maybe. I went and looked on Ebay and found something I can play with so bidded on it and won!
Here's a complete but well rusted, oxidized CB400N. Everything is there though . . . . . . .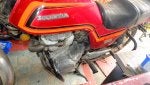 Should keep me happy for a while. Lots of rusted bolts. The ironmongery towards the rear held two huge panniers which came with the bike, going to use them to store some of the bits I take off the bike. This time round I'm photographing everything and bagging and tagging. In my CD200 thread I just pulled everything off and chucked it in a bin and then spent three years working out what went where. I still have nuts, bolts and washers left over but I did replace quite a lot with stainless items.
Sorry there isn't a whole bike picture shown I can't get the bike out into the open to photograph it because of the snow and because my CD200 is in the way on a jack which I can't get to!