alright, so I got this several months ago, while the price is not cheap, but the whole outside look was so nice, so I just decide to put the engine down and see how is it inside. And maybe get some necessary part before put everything back together. this is my project is all about.
So, this is how it is look when I got it the first time, and like before i tear it down apart.
got in 700km away from the city I stay, so have to kept it in my friend's garage before bring it back home with courier service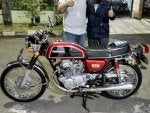 looks shiny from the outside
looks very nice as well from this side. you will never able to judge how it is in the inside.
okay, the story more to come...