Did your CDI unit die and you don't want to spend $100+ on another one that's just as old? Or are you like me and your pickup is too weak for your CDI to read and you can't bear to spend $500+ on an entire stator assembly, if you can even find one? Either way, you can use a dirt cheap GM HEI module as a replacement ignition source to get your bike running again, with timing advance and everything! Coupled with the GM coil mod, you could completely replace most of your old ignition system with brand new parts for about 50 bucks.
WHAT YOU WILL NEED:
1 4 Pin HEI module
3 male spade connectors
4 female spade connectors
1 female bullet connector
1 ring connector
Connectors to plug into your coil (plug cut from cdi, spades, what have you)
25 feet of stranded copper wire (I went with 14 gauge, probably overkill, 16 or even 18 should be fine)
Hardware to fasten module to your bike
Zip ties for wire retention
Wire stripper and crimper
Optional: wire loom or sleeve or something to bundle the wires up
First off, you're going to need to figure out where you want to mount your module. Because i have no plastics, I chose to mount mine to one of the plastic mount holes to keep it close to the other electronics, but you can choose anywhere you like. A good spot is under the gas tank where the CDI would go. You'll want to finalize your mounting location first because obviously it will affect your wire lengths.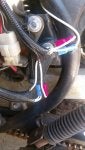 Second, go ahead and start running your wires. Use whatever method you like to measure it out, but be sure to take into account how you plan to route and secure them. I generally will add an extra 2 or 3 inches just in case I need a little extra instead of having to splice or cut a whole new wire. Unfortunately, the 9 volts produced by the CDI power connector is not enough to power the HEI module so you will need to tap the battery. If you wanted to, you could probably use a DC boost converter to bump it up to 12+ volts, but then it's just another unit to mount and it probably wouldn't be worth it in the end.
For the connectors that require 2 wires, remove a little extra jacket and twist them together tightly and crimp the wire inside of a connector one size larger than what you would use for a single wire. For the kill wire, the bullet likely won't fit snug. Take the female bullet connector and insert the male bullet from the wiring harness, and use a pair of pliers or cutters to crimp the female over the male for a tight fit.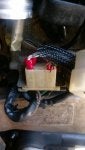 Once you are done running your wires and crimping them, go ahead and insert them in their sleeving (if you choose to use some) and route and zip tie them to the frame and plug them in. It goes without saying to make sure to plug everything correctly.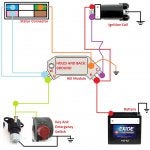 Finally, the last step is to crank it over and test your work. If all goes well, your bike should fire right over and idle. If it's idling smooth and revs up easily and quickly, go ahead and take it for a test drive. If it doesn't fire at all, go back and double check everything is correct and making good contact. If it does not want to turn over but kind of runs for a few seconds, it may be only reading your advancer and not your pickup. If it's choppy and backfiring but runs it may not be reading your advancer. You can watch this video to see how huge of a difference the module being able to read the advancer or not makes in the running quality of your engine. You can hear in the video when I pull the advancer pin the rpm drop quite a bit and engine backfiring into the carbs, but it jumps right back up when the pin is reinserted.
NOTES:
My pickup reads 147Ω (60Ω under spec) but still produces a usable signal, just not powerful enough for the CDI. My advancer is in spec and it is important for smooth idle and running. If your pickup is too weak to make a signal or is physically broken, this probably won't work for you. But for $10 and an hour or two, it could be worth a shot.
If you aren't sure that this is going to work and don't want to put in all of this effort to be disappointed, I recommend using alligator clips and jumper wires to bench test the ignition before you go on with the full install.
The module will slowly drain the battery if left connected, if your bike is for weekends only or you just don't drive it much either put in a relay between the battery and module or just pull the positive connector. If you ride your bike regularly (it took about 5 days to drop to a no start level for me) then you have nothing to worry about.
If for some reason the schematic picture is ever lost, here is a pinout and description of how to hook up the module.
Code:
hei pins:
w - signal +
g - signal -
c - coil -
b - coil + and 12v
hole - ground

stator pins:
blue - pickup +
pink - advancer +
green - advancer -
brown - pickup -

hookup:
w to blue and pink (put 2 wires in 1 connector)
g to grounding kill switch (grounds pickup signal to stop ignition)
c to coil negative
b to coil positive and battery positive (put 2 wires in 1 connector)
hole to green (green is basically a body ground so if your module has a good connection the the frame it is unneeded, but i put a wire here anyway)
brown is unused
UPDATE 1:
Here is the timing advance curve on video:
It starts off idling about 1200 RPM, some revs to 4-5k RPM, and then up to 7k RPM, then a few more 4-5k revs for good measure.
Here are images of the marks at 1200 and 7000 and an overlay of the two.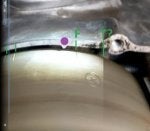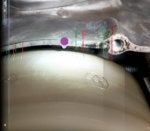 Unfortunately as you can see, there seems to be an issue with the timing advance not, well, advancing nearly as much as it should. I'm going to look into this and update when I come up with a solution, but for the time being if you need to get your bike running in a pinch for cheap, this is still a valid option for you... just at the cost of some HP and MPG.