Discussion Starter
•
#1
•
Hi there,
I am working on my 1981 Honda cm400t and having some serious issues with the rear shocks.
The bike has a 450 engine on. Also the front end (forks and wheel) come from a cm450e (1983) as well as the rear wheel (I like spoke wheels...)
The front fork is fully rebuilt with 15w oil and works very well.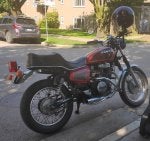 on the other hand the rear shocks are some brand-less piggy backs I got on 4into1, here is the link:
Black & Chrome Remote Reservoir Shocks - Eye To Clevis - 350-360mm
So, the reason I changed the shocks was excessive bottoming. I believe the original "eye-to-eye" distance is 325-330 mm. I went for the 350-360 mm 4into1 mystery-brand. The installation was pretty straight forward (aside from the fact I had to remove the helmet holder). I liked the look of the bike and it felt like the rear end was taller which is what I wanted. So far so good. When I started riding it a bunch problems came up at the first potholes: the general behaviour is ok and there's
basically no bottoming anymore when tackling big humps
, the problems come up when riding at speed over sharp unevenness like the edges of a manhole or small steps in the asphalt: in this case it feels as if the rear suspension isn't working at all.
The impulse travels all the way up the seat giving a sensation of total lack of dampening. In other words as if you had a flat rear tire.
The confusing part is that this happens without the shocks bottoming. Very confusing.
On top of this there another, extremely, worrying behaviour: when leaning in a turn and going with the rear wheel over a series of light unevenness of the asphalt, the whole rear end starts shaking. Like a lot. I even had a friend watch my rear wheel on a parking lot as I was turning and I had the confirmation: visible vibrations up and down triggered by some extremely small bumps.
Weird.
on a side note: my rear tire is definitely at the end of its life and during an inspection of the rear wheel assembly I noticed a loosen sprocket nut. Ones tightened the nut nothing changed.
Any advice is very welcome... I'm a little lost...