Discussion Starter
·
#1
·
Hello everyone
This here marks the start of my latest project, the full restoration of a Honda CD200 Roadmaster.
I spotted the bike for sale while browsing on Gumtree about three weeks back, and after a few phone calls to the seller we agreed on a selling price and I arranged to collect the bike from him that Saturday. I live in Durban, South Africa and the seller, being based in Johannesburg, made for quite the drive to collect the bike (1200km round trip- 600km each way) I left home at 3 am on that Saturday morning in my trusty Nissan 1400 bakkie (pickup) and arrived at the sellers house just after 9. The bike was in decent condition,better than the photos posted online, and upon opening the fuel tank I was quite surprised to find absolutely no rust on the inside. This is one of the benefits of buying a bike from up-country, way less corrosion overall. I was happy with it and reckoned it would make a great bike to restore as most of its parts were there and it hadn't been modified as far as I could see. The compression was also pretty good. Payment was made and I soon began the return leg of the journey. I arrived home at about 5pm that evening absolutely buggered from the long hours spent driving and without delay, my 3 year old son was all over the bike asking a million questions about it.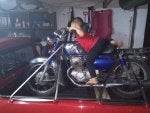 I spent the following day trying to get it to run, which I eventually did, having found the float installed upside down in the carb !
Please excuse my filthy garage. I will clean it someday in the not too distant future
.
I went for a short spin around the house before putting her back in the garage to stare at some more.
To conclude, this will be a long term project due to the fact that spare parts are no longer available from Honda SA anymore . It looks like I will have to import almost everything which is going to increase costs enormously.