I have been hearing about the Red 450 for years. I just bought one-needs a lot of work but mostly there. Does anyone know the red paint color or a paint with a matching code? What about the color and matching paint for the silver on the fenders and side covers? thanks Jim
My son was able to upload some pictures for me.
This was purchased outside of Buffalo NY. Had been sitting since '79. Got it from the second owner who purchased it from the first owner in '69. The second owner said it had never been painted and was red when he bought it.
In the barn
Front fender is wrong, fork covers were cut. This is after soda blasting the engine.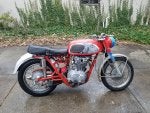 Close ups