1963 Ca95
Hey there, I also have a 1963 CA95 which I am in the process of finishing up restoration on. The shop manual refers to the stock carb as a Keihin PW20Ha3. Mine has a PW20HOV, which is listed as the stock for the C95 but I figure was used in US models. I assume this because mine sat in a basement for 40 years after the original owner laid it down once and stored it.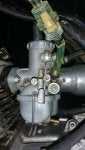 The few originals I have seen floating around on Ebay are VERY pricey $500 - $700. But that was just a quick search.
I did see this repro from Taiwan on ebay. Not sure what your going for as for as original parts but, the price sure is right. And from the pics it seems pretty similar to mine. Of course you would want to verify.
Carburetor Honda C95 CA95 Dream Benly S90 Super90 SL70 CL90 Taiwan FREE SHIPPING | eBay
Good luck with your search. Mine is my first ever restore and it's been a blast to work on. This is mine so far...
Do you have the shop manual? If not I could send it to you just let me know. I have collected quite a bit of info during my research.