Discussion Starter
·
#1
·
This is a lil offshoot from my CB360 thread...
Hey all,
I need some help with my turn signals on my CB360. Originally I had only a rear OEM pair that came with the bike, none in front. When the bike was turned on, the rear turn signals would always be on like they were running lights. When I flipped the turn indicator switch to either direction, the selected turn signal light would turn off and the other would stay on. I waved this off as a problem with the flasher relay or because there were not enough lights/draw to cause the flasher relay to "blink" the lights.
Now I have ditched those rear OEM lights for this little set up I created, along with an identical set up in front. :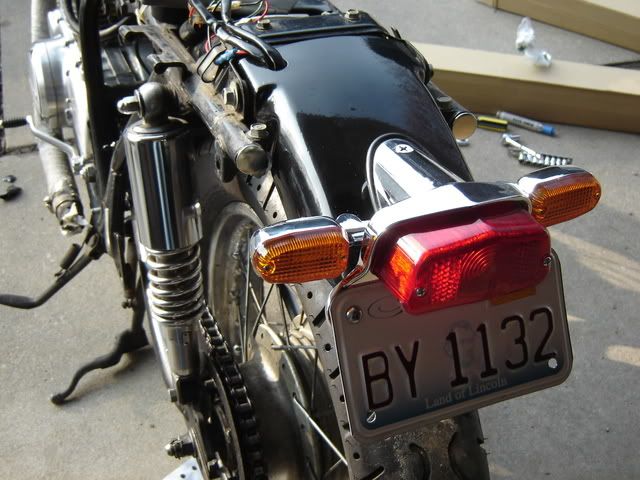 I figure that with the increased number of lights, the flasher relay would activate and "blink" the lights. However, now BOTH the front and rear turn signals lights act like running lights (maybe I wired them wrong), which doesn't really bother me too much, but they still do not flash! I even replaced the flasher relay with 2 different ones I picked up at AutoZone with the same result. Once again the turn signal light from the indicated direction turns off, but now this applies to both the front and rear set! I have no idea what to do next, since I HATE electrical issues.
BTW the turn signals in question that act like running lights are EMGO Mark II Mini Stem signals. They have 3 wires: Red, Black, Black with White Stripe. The way I wired both the front and rear are as such:
Black w/ White: To the respective colored wire (e.g. Orange or Blue)
Black: To Ground (Green)
Red: attached to nothing