Hi all,
I'm new to this site and look forward to getting involved in the community.
I've owned a 1977 CB400T with a 400N engine for about a year now. I paid about £850 for the bike and felt it was a bargain as it seemed in really good nick for the age. I've since had a fair few problems with it but I assumed it want going to be smooth sailing. I love working on bikes and choose to go with a classic because of their simplicity and to force myself to learn more about how they work and how to properly maintain them. Before the Honda I rode a Suzuki GN125.
A bit about me. I'm a 22 year old male 3rd year student at Loughborough University, studying product design engineering. But am currently on a work placement at a company called Omlet so am living in a town called Banbury just outside of Oxford.
I've just started to rebuild the engine and plan to do the same with the carb. I had a pretty bad breakdown a month or so ago. It was a sudden loss of most of the power on a motorway and increase in engine noise that only got worse. There was a horrid smell of burned oil and a little smoke from the engine. Sadly my phone was dead so had to ride through it a short distance to the next town. which was a very mentally painful experience and in hindsight pretty stupid. But hey, here we are. I'm looking to get some advise on the build and will be posting with pictures when I get stuck or need an expert opinion.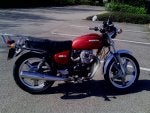 link to my first engine strip down questions
http://www.hondatwins.net/forums/62-engine-discussion/114906-cb400t-engine-strip-down.html