I'm having trouble figuring out this issue with my headlight bulb going out. I'm using a Narva 35w/35w bulb (from common motor) in an aftermarket headlight assembly. I made a wiring harness from scratch and so far have run into no issues other than this:
I'm out riding one night, turn onto a country road, switch on my high beam and suddenly- darkness! I pulled over to the side of the road and noticed my low beam was still working so I switched it on and turned back towards town. Within a few seconds the low beam burned out too. I had been using this bulb for only a couple weeks. The headlight operated fine for several rides, some short some long, high speeds/high revs no issues.
I test my R/R (combo unit from sparck moto) with a multimeter and verify that it's working. I also install a couple rubber washers at the headlight mounts to absorb a little vibration in case that's what put the lights out. Install a new bulb (same Narva 35w/35w) and ride the bike as normal. All seems to be going well for another couple weeks, took the bike on good long runs on old highways with the light on all the while. High beam, low beam, working splendidly. Then on one ride it happens again. I think this time the low beam went out first, and the high managed to stay on for a few miles before burning out.
So now I'm scratching my head. It seems odd that the bulb burns out when it does. I'd think if it were a wiring issue it would happen instantly when the power is switched on, or at high revs, or after being run all day, but it works fine through all of that and it doesn't seem like anything in particular is happening when it does go out. The R/R is capping off the voltage when it's supposed to. Is there anything else I could check that might be causing the burnt out bulbs? Or do I just need to start buying these things by the pallet?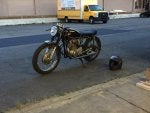 Edit: The wiring run for the headlight is as follows: Battery > Ignition Switch > RH Controls (On/Off) > LH Controls (LO/HI) > Headlight. Ground connections look good.
I also noticed that I had the HB wire from the headlight connecting with the LB wire from the LH controls, and vise versa, but I didn't correct it because I can't think of it making any difference other than having to remember that it's actually on low when switched to high and high when switched to low. Now I'm wondering if there's something I'm not thinking of.