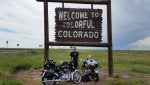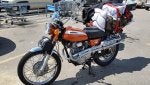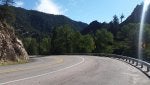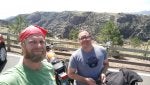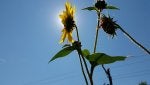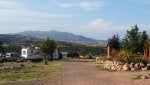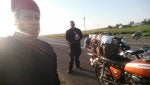 Starting 4 days prior to trip start:
Monday:
Finally a day to work on the bike with all of the pieces in hand. Had the bike painted, tires and wheels, mounted balanced and trued. I managed in one evening (5pm to midnight) to get everything back together and running.
Tuesday:
Put Clara through her paces in town for about 10 miles, came back after 2 miles and tightened the chain a bit. Did not loosen the rear brake smh
I thought she was just running doggy, especially on starts. It was raining and saw steam coming of the rear hub, stopped and adjusted the rear brake. No problems.
Wednesday:
Took a longer highway test, no problems again.
Thursday:
A night off as Clara rested and thought about her journey ahead of her. Tested gear pack, added fork bag full of tools.
Friday:
It's here heading out after work when my buddy Matt and his late model Royal Enfield arrive.
We unload Diana (my name, not his) and pack up for a short 90 mile hop to Greensburg, KS. Diana immediately proved to be less than cool. She wouldn't start, then she did. Later we realized there was a short somewhere in the handlebar wiring harness, you could wiggle the bars and she would start. I had previously calculated the route giving myself 40 MPG and a 2.64 gallon tank. The MPGs were spot on. The tank however seems to only hold 2.25 gallons. About 10 miles outside of Greensburg I flipped over to reserve as Clara requested. Reserve lasted almost 9.5 miles. I had a one-quart fuel canister with me, alas, it was empty. Luckily Clara is a breeze to push. As this was one of the longer distances I had calculated between fill-ups, not much was required as far as re-calculations stops. New rule though, don't pass a gas station after 60 miles on the trip.
Filled the canister up as well and headed next door to the Crazy Mule, a local eatery and watering hole. We played some ukulele for the fine folks there, ate food, drank drinks, and headed to the FREE Kiowa State Fishing Lake. We setup out tents, slept, woke up, got breakfast and headed out, later than planned.
Saturday:
Our plan was to arrive in Trinidad Colorado, we were traveling on US 160 which isn't that busy on a Saturday so that was nice. We cruised about 55-60 most of the day, tried to not push 7000 rpm for any length of time. If you hear Kansas is flat try riding up some of these hills, I hardly saw 5th gear most of the afternoon. I sometimes wished I hadn't made the gears so tall. Somewhere along the way the fuel canister fell off. We kept a crushed water bottle on hand after that. I only hit reserve once that day and made it easily to every fuel stop. It was only 87 degrees or so but I made sure and gave Clara a rest at each fueling.
Many people stopped me to talk about Clara and how pretty she was and how they used to have one just like her, or their friends did, or their neighbor did, or it was a CB, or an SL. They all wished us well.
We hit weather just across the Colorado line and took shelter under a porch at a truckstop. Finally radar looked clear and we headed back out. A little rain but nothing to put rain gear on for. One of the fuel stops was the last stop before Trinidad, Kim Colorado, I thought I had verified the gas station on Google Street View. The only gas station was closed. Finally asked a local and they directed me to a card only pump hidden in-town.
We arrived in Trinidad around 7:30 PM and stopped in at a liquor store to again take shelter from a heavy rain. While we were there we shared a celebratory beer under their back porch. We ate food, had more drinks, played some ukulele for the fine people of Downtown Trinidad. We thought we had our campsite figured out, drove out there to see "All Campsites Full" we briefly flirted with rough camping outside of the camping spots but gave up and headed back into town, checked with a couple of RV parks but they didn't allow tent camping. So we ended up staying in a motel. Also my battery stopped starting the bike. Also, also, Diana lost high beams.
Sunday:
I rode to Reilly's and asked them to check my charging system and battery. They were ill-equipped. I did get a multi-meter and showed 13.6 volts, bought a new battery and went on our way.
Our goal was to get to Canon City via mountain passes on this day. We got about 15 miles and rain came again. Some overly zealous motorcycle mechanic told us it would rain all day and we should turn around and take the interstate. We rain geared up and went on our merry way. We ended up going over 3 or 4 passes
link to location here
with little rain. It was beautiful and Clara did really well. Only had to go to 2nd gear and crawl up at 20 MPH once. When we got to La Veta, I mistakenly though we were done and apologized to Clara and told her I wouldn't make her do that anymore. Of course there were 3 more passes to climb after that. It was getting dark and we decided to stop in Whitecliffe, CO for the night. It was still drizzling so we decided on a hotel that showed vacancies and decied to get food first since they would likely close soon.
We were right, the kitchen was closed when we got there (by 5 minutes) but the proprietor agreed to make us burgers. We said thanks, ate them along with some spirits. Played ukulele for the people of the pub and headed to the hotel. First we tried the one 1 block from the pub, it had no vacancies, then back to the one we saw on the highway, they were closed with no night staff. Hmmmmm.
We started checking the city parks, town of 600 people with 5 parks, 4 said "no camping" one only said "no staking" so we rode into the picnic shelter and used the bungee cords off the bikes to pitch the tent. Woke up with no police interuptions, ate breakfast, so much breakfast and headed for the last 20 miles to Canon City.
Monday:
We got into Canon City about 10:30 AM just in time for the start of the eclipse. It was only 87% eclipse here but it was fun watching it get darker. We headed to the rafting company we were using to raft on the Arkansas River under the Royal Gorge. I had called ahead and found one that would let us stash the bikes in their garage. We got checked in, had about and hour to kill, so we rode up to the Royal Gorge Bridge. We had a great time rafting and then checked into our last campsite, this time a KOA Kabin.
We got settled in and headed just 1/4 mile away to a local purveyor of food and beverage. "My Sisters' Place" We told them we would like to eat, drink and play ukulele for them and they were game. So we did. It was fun.
Bedtime
Tuesday:
Through a clerical error, we were suppose to spend the night in Pueblo and not have to drive the entire way back in one day. Nope, 437 miles to go, and we woke up late, 3 hours late, and I noticed the right cylinder was dispensing oil onto the cooling fins.
What's the worst that could happen?
Clara was still running like a champ, mostly, I noticed I couldn't even hold 65 mph on a slight hill in 5th gear. I was definitely low on compression. Mind you, this is a low mile bike but I never opened the engine at all. About 2 months prior to leaving I did a compression check and #2 was a little less, I don't remember what the numbers were but they were both within specs and within 5 of each other. By the time we got into Kansas we were double screwed. The late start was pushing us into definite darkness. Diana by now had flickering headlights on low and no headlights on high. So I'll admit we were trying to makeup time. We were no longer giving Clara a 45 minute rest at fuel stops. More like 15-20. Always checked the oil, but she really didn't seem to be using. Maybe 20 oz over the last 600 miles.
We were 6 miles away from Dodge City which is 120 miles from home when I felt a power loss, i leaned over to go to reserve because it was about that time. It was then I noticed the smoke coming from the muffler. After staring at her for about 10 minutes Clara assured me we could make it the last 6 miles on one cylinder. Plugged that side's fuel line, pulled the spark plug and headed into dodge at 30 MPH.
Called my dad and about 3 hours later he showed up to haul us home.
Wrap up:
I still haven't looked to see what's up. Guessing ring(s) It was a fun trip, she made it exactly 1000 miles before throwing up. Tough old girl, 1000 miles on parts that sat for the most of 48 years.
One thing I know is I wouldn't do it again with out a luggage rack/sissy bar. Riding with my crotch on the tank sucks. Next year after the rebuild, Route 66! See you in the rebuild pages!