Heck yes!.... If you can afford one, get it!.....
I've only ridden and owned an older one, (250 Diana).... but recently drooled over a "monster" to the point where I considered copying the trellis frame (in slightly reduced size) to hold a Sprint engine (which somewhat resembles one cylinder and the cases of the Duc twin), but I could not afford a small enough inverted fork (from a 50cc Derbi) for it.....
In case it is NOT apparent, I enjoy building offbeat designs ALMOST as much as riding them..... Steve
The "Duc" engine.....
Now, picture that with the "top" cylinder removed (or hidden by the frame/body, and compare it to this: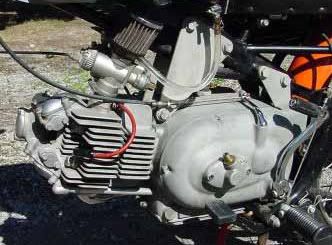 The "Harley" Sprint sure shows its Italian heritage... from the cylinder angle, to the almost vertical intake, to the "boxy' main cases......
I'd prefer a real DUC of my own, but maybe I can just "borrow" yours?......LOL... Steve