Discussion Starter
·
#1
·
This is my second time installing my flywheel. Had to replace stator (again). But the last time was 2 years ago. I don't know if I'm going crazy but I have a feeling it's not as flush against the bike as it should be, like it's too far out? I just feel like I can see more of the stator than I should plus ( I think) I remember the stump/dot on the flywheel moving completely under the box that the stator wiring goes through, but it's only partially covered by that piece when I line it up?
I have the flywheel bolt torqued within spec range, 85 ftlbs.
Maybe one third of the dot/stump is left sticking out from underneath that box.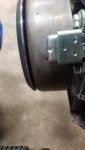 I don't know if my subconscious is looking for another thing to go wrong on the bike for the sake of staying ahead or I'm right in saying this looks off lol, either way some clarification would be greatly appreciated. Am I good? Or did something go wrong?