So I've previously posted about all the engine work to reassemble what I bought for my CM400T project - I received some great advice and I thank all of the elites out there who assisted me with that!
I've now managed to get the engine mounted to the frame with a lot of assistance from my wife and kid (couldn't have done it without them!), and she's sitting all pretty waiting for me to sink my creativity into her.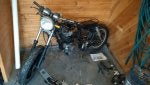 As has been suggested to me in my introductory posts, I'm going to get this bike working in its stock form before approaching any significant modifications, which is great advice. First we crawl, then we walk.
I've run across two surprises already since the engine has been installed. Firstly, the shift pedal is bent something fierce! I'll need to put it in a vise and get it straightened out. The post for the shift lever also pinches pretty hard against the left crankcase cover, as it must have been bent in a drop. I've tried a few different ways to straighten it out, but am now considering just drilling the hole in the crankcase cover bigger, as if I continue bending this shaft I'm just going to ruin it, and then have to disassemble everything I've worked on to replace the entire shaft component (no thanks).
Secondly, I've found not one, but two cables running from my handle throttle assembly, yet there seems to be only one cable keeper where the throttle cables run to the carburetor. I'm scratching my head on this one - the only thing I can think of is that I have some mismatched components on this bike. Has anybody run across this issue before? All I can find is what appears to be a keeper for the throttle, which hold the cable in place with the threads on the cable end itself, and another pinch keeper that I can only assume is for the choke cable.
I've taken a picture of one of the keepers (my apologies for the bad angle, it's a little tight under there).