When I was 19, I built a CL450K5 into a modified class drag bike.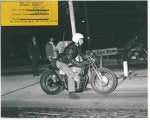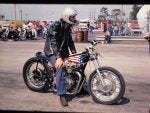 Ever since letting it go back then, I've wanted to do it again - but this time, street legal for the fun of still being able to surprise a few people with it. A few months ago, I found this bike in nearby Lakeland FL for $1900. I took it home in a truck (despite it being a runner) and proceeded to tear it down. Glad I did, after discovering that the PO had left the fuel on all the time and the carbs had weeped into the bottom end. So it begins...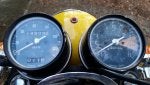 the outer engine covers had been off for the usual clutch and starter clutch repairs over the years, but it looks like the top end had never been apart. Rust rings in the cylinders from sitting and some cam chain wear on the cylinder block from lack of maintenance, but other than that, so far all seems decent.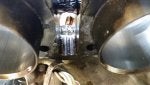 Of course, you (somewhat) set a budget for the stuff you need/want to do to it, and then start buying things... and before you know it, the budget is blown up. Once you do some stuff, you need to do other stuff to make most of it look as good as the stuff you're replacing. This was a small first order of the little stuff that adds up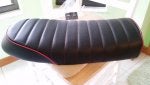 Then you find cool stuff like this that you know will add to the overall picture when it's done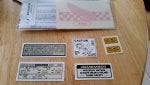 I want it to be different while still keeping some vintage Honda aspects - the period-correct gray cables, grips, gauges - but a departure in some ways of my own thinking. I ran across this at a Japanese website called Web!ke
and then the engine parts to replicate what I had the first time around - 497cc pistons, 36mm Mikunis, and after the first of the year, MegaCycle cams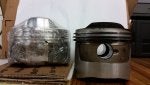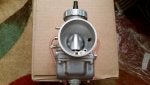 After some frame mods with the help of an old friend with a MIG welder, some mocking up (with lots more to do) before getting the frame powder coated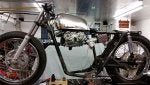 Obviously, lots more to do...