Discussion Starter
•
#1
•
I have a 1970 CL350 with an 1972 SL350 engine that FINALLY started running after a complete rebuild. I tuned it the best I could following the rebuild (timing chain, valve adjustment, points, and carbs). It idles great once warm. All electronics are new, except the battery which is a year old but holds 12v just fine for days.
The problem I have been having is vibration. At idle, it's smooth, but above ~5k rpm, the footpegs are painful to have your feet on and the mirrors are a complete blur. I've tried to do the recommended stuff for motor vibration- All 5 motor mount bolts are tight, carbs are synced as far as I can tell.
SO, do SL350 engines inherently vibrate more? I know I should expect some vibration from an older bike, especially when it hits harmonic tones, but this seems excessive.
and would the engine go "out of tune" after being ridden 40 miles, if it was tuned before it ran? in other words, should I re-tune it?
My suspicions are:
1. The aftermarket CB exhaust sucks and is somehow contributing. I suspect this because the passenger footpegs (which have brackets holding the exhaust) are even worse than the driver pegs.
2. After engine has been slightly broken in, it needs to be tuned again.
3. SL engines are just extra shaky.
Is there some other balancing mechanism that I misaligned? Motor mounts need to be loosened then retightened? Can they be too tight?
Any advice would be great as I am stumped on this..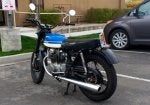 Other facts:
15:38T sprockets
Compression when cold: 130, 120
New points
New coils
New plugs
New wiring harness