Discussion Starter
·
#1
·
I need help with installing a new front brake cable.
CL350, so I bought the 51" one. I did compare it to the old one I took off (it was the same length) before throwing it away.
Problem now is that there doesn't seem to be enough slack and I can't figure out why. I started the install at the bottom and when I try to attach the lever, there isn't enough cable. I can get the lever in place, without the upper adjuster, but then the cable is tight and the brake is fully applied.
Does this look right?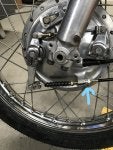 Is the adjusting nut on the right suppose to be recessed into the side plate in this area? Looking at the black/white photo in the shop manual makes it seem like it is recessed. It seems like this is about what I'm missing in cable length.
Thanks