Discussion Starter
•
#1
•
Hello, Im new to the boards but ive lurked around here for quite some time. I'm currently working on CL350 brat project. Im about 90% finished but im stuck with wiring. I recently purchased a simple and clean start/stop/run control switch from DCC and Im having a hard time understanding the wiring schematics. Thanks to Honda Twins and all the info you guys have ive been able to successfully install the hi/low light switch.
Now this is what im dealing with...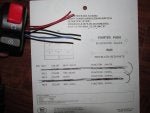 Instructions indicate:
blue/white- starter
red/black - run/kill
black -starter
red/white run/kill
Thanks Guys, any help at this point is greatly appreciated.