Hi,
I recently got an old, partially disassembled CB 250 from 1974. Which I want to bring back to life.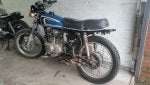 At the moment I think I will transform it to some kind of Scrambler. The exhaust is rotten anyway so I was thinking about getting a "new" one from an CL 350. The CL exhaust would really underline the Scrambler look.
Can anybody here tell me if it can fit plug and play to a CB250G ? It think the engines are not very different and the differences are more or less inside the motor, so I hope the lead pipes should also fit the slightly newer 250G.
Anybody here who knows? I would rather just try it out, but these exhaust are terribly hard to find in Germany so I will have to order it from the United States which means postage might be quite expensive. So I need to be sure it will fit.
Any help is very appreciated
Cheers,
Carsten