Discussion Starter
·
#1
·
I upgraded my rectifier on my bike using the radioshack rectifier upgrade, which i've used on both my bikes, and was very happy with it. however, I am only running a 4ah battery on one of my bikes and didn't want to trust the stock regulator to keep my battery from being cooked, so i started looking at upgrades.
I saw the single unit upgrades from charlies place and oregon parts, but they are bit out of my price range. I noticed that one of the units was identical to a reg/rect I had installed into an old riding mower. that unit had only cost me $45, so I started looking at those. after a bit more research I found a good, small unit. I was lucky and got mine in an auction for $10, however all the other units i've seen online sell for right around $25-30.
the unit is typically used for Kohler or John deere engines, its rated for a 12v15a system. these honda twins (as far as i know) only get about as high as 8a, so the 15a is plenty.
here's a link to one example.
http://www.ebay.com/itm/REGULATOR-RECTI ... 1881wt_568
the kohler part number is 25-755-03
now for those of you who have already upgraded to the radio shack rectifier, installing this will be a breeze, as it only has three terminals. AC1(yellow) AC2(pink) and battery+ (red or red/white) and it grounds out through frame, or you could bolt it on using a ring terminal. basically you just unplug the radio shack unit from the wiring, plug this one in, and remove the stock regulator.
here's a comparison shot.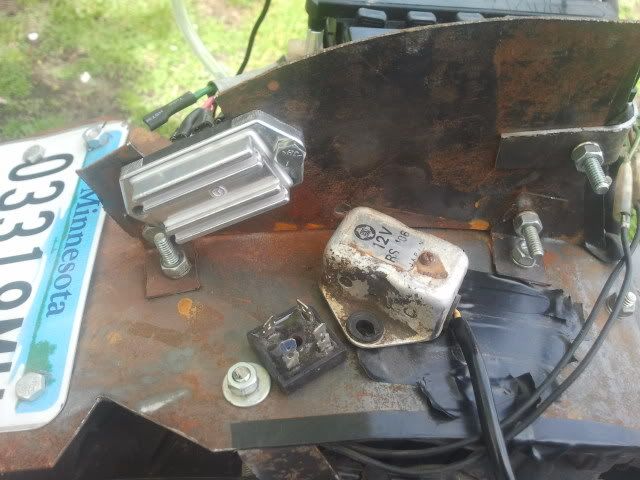 and here's a shot of my wiring.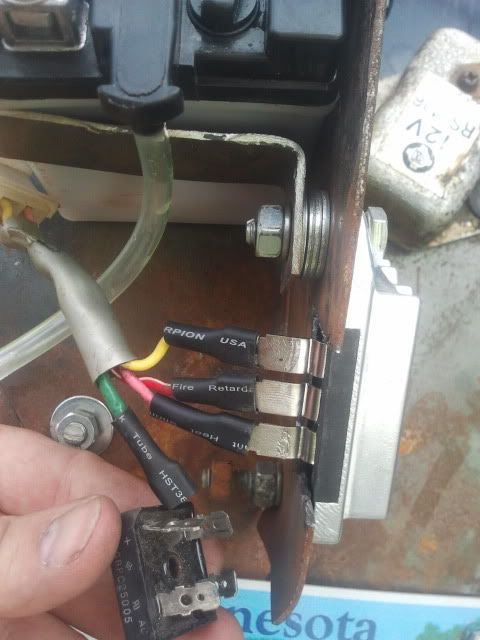 now, the hard part will be mounting it. for me, I installed this on my cafe 500t, so it was all custom mounted anyway. I would think it could almost be mounted where the stock regulator went however, only being bolted on with one bolt.
and while i installed this on my 500t, it will work for all honda twins with a 12v system and this kind of charging system