CD200 Pharmacy bike to Cafe Racer
Hi Everyone,
I've recently started another project in addition to my blue Honda CD200 Roadmaster project that has been put on hold until I complete this one.
The bike is very much the same, a red Honda CD200 Roadmaster with about 66000km on the clock.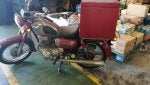 It was sitting for about 3 years when I got it. Prior to that it was a pharmacy bike.
The pharmacy 'scrapped' it due to engine failure, or so their mechanic told them. So issue 'one' was with regards to the paperwork.
Either way the engine took only an oil, fuel, battery and spark plug change to get going again.
I 'replaced' the original carburetor with a new one, as it sat the whole 3 years with fuel in the bowl.
It cleaned up nicely and ran well, although it fouled the plugs fairly quickly.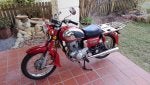 It had some issues. The bottom of the forks where not in such great shape. I guess being a pharmacy bike changing tires meant you just 'chucked' the front end on the concrete without concern (pics to follow). But upon closer inspection though the fork shrouds hid a previous front end collision as well. The rim from my best judgment was/is not bent.
I decided in light of this, the paperwork and my passion for wanting to build cafe racers with a classic look I decided to make this my new project.
Lets get started