Discussion Starter
·
#1
·
I'm not sure if this will become a real project in the sense that there will be an actual outcome in form of a beautiful old Honda, but after a couple of months in my garage I have to recognize that it has actually become already something like a project. I'm writing about a rather corroded and neglected '72 CB450 which I bought in November last year. Although having already a '72 450
and
a 500T my finger just couldnt resist pressing the 'buy now' button on eBay after finding out this bike isn't too far away and for peanuts.
I love my two old Hondas but since I've bought them just a couple of years back and never had much trouble with them, I always had this desire to learn more about the engine and all the small bits you don't tear apart just for fun. So this seemed to be the perfect deal for me.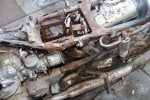 I knew what I was getting into and yes: There have been some flaws and bad surprises (and will be), but they have been well reflected in the price of 85$ only. On a normal bike the major flaws would be: no title, sitting outside for months or years without spark plugs (yes both, please see the detail picture), two broken fins on the cylinder head, a damaged crank and bearing, a cracked triple tree and some parts missing like tank, side covers etc... But nevertheless; over the months this bike managed to take control of my consciousness as well as my wallet. I never knew how much fun this is. To make it short. This is how the bike looks today. Yes, it's a K7 tank but I bought it afterwards.
As anyone can imagine the engine was super-seized and filthy and it took me a whole week to get the pistons out. The fiddliest part was to cut countless pieces of hardwood to put between the cylinder and upper crankcase when hammering softly. Every time I made some progress I had to cut some new pieces. I've read a lot about mystery oil etc., but with this kind of freeze you've got to apply some force (and lots of heat of course).
Anyway, the engine is apart and I'm pretty happy with the outcome. The only downer was an outer crank bearing race with some deep rust stains and rust pits on the counterpart surface on the crank. But again my finger took control of the situation and pressed 'buy now' an eBay again before I could really make up my mind. So I guess that's solved…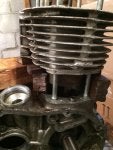 Some other parts like battery and tool box, pegs, chain guard etc. are already cleaned and primed and my plan for now is to prepare everything and put it in boxes. However, it doesn't prevent me or my finger to continouusly order new bits and pieces 'cause I just can't put unfinished subassemblies in the box. Stupid? I know, but I'm at least aware of it…
But anyway, not really knowing the actual outcome of this 'project' turns out to be the main question. It is certainly not a full restoration without a title. But what is it then..? Maybe a spare parts deluxe project? I will find out…
Another important factor in my planning is that I will have to move abroad this summer. There is no question about leaving a bike behind but I don't know if I will have a garage. Well, I have some months left to get my wife used to the idea of having a bike in the new house or apartment
For now I'm planning to restore at least the engine since I've got two other bikes that could take advantage of it one faraway day. This week I will measure the cylinders and valves to see what else is required...