Discussion Starter
•
#1
•
Hello!
I bought a 1984 cb450 Nighthawk (Canada version, possibly the 1983 model) earlier this year. It started cold, worked great on a test ride, then I put it in storage for a few months (with little fuel, maybe 1 litre). The previous owner told me the carbs were timed very recently.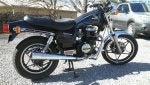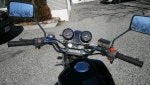 Last weekend, I installed new spark plugs (old were black and gunky), filled up about 5 litres of gas, and tried to start it with my other bike's battery(battery is dead). Still no start. It turns, turns, and turns, but it doesn't catch.
I spoke to a mechanic over the phone and they told me that they need to clean the carburetors. Additionally, they told me that my bike may have rust inside the tank and will not work on it unless I get it properly cleaned by a tank cleaner. This was over the phone. My bike does not have rust anywhere on the body, especially not in the tank (attached picture is a photo taken which I sent to the tank shop they referenced and they told me "there is definitely rust"). I disagree there is rust in the tank. However, I want to ask you all the same question you've probably been asked before. I know there are some forums that will guide me, but I believe my case is relatively unqiue enough to issue a new post. My apologies if you think otherwise.
Take a look at this photo that I sent to the tank shop. Do you see rust? He told me there is, but I don't see any!
Additionally, what else could you diagnose what is happening? Anything will help.
Thank you so much forum. I am really glad you guys are active here.
Best,
Josh