Discussion Starter
·
#1
·
How do
Two questions about the 450 cush drive bushes - or whatever they're called 'cos that's the best name I can give them; item #6 on this diagram: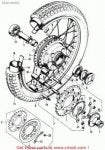 ​
- are there any tricks to removing them? Mine seem to be very solidly in their sockets and before I start applying any force, I want to make sure I haven't missed anything. I've had a go with a blind bearing puller, but right now, it's not happening, so I'm soaking everything in PB Blaster.
- is there any point in me removing them? I'm assuming that replacing the bushes with something newer than the 1972 parts that are in there will make the drive a little softer/less jarring because the newer rubber will be more malleable. It's not like the rubbers in there are busted or torn up, and the ride's not terrible, but they look pretty tired.
For a little more context, the bike only has about 10k on it, but AFAIK it stood for a v-e-r-y long time before I got to it. I've had it for around ten years and it's only now that I'm now using it pretty regularly.
Thanks all.