Hey all, new to the board. I bought
this 1975 Honda CB360T
about a week ago, and plan to repair/restore as needed. Right now, I really need a working clutch. I'll explain what I've done so you can properly punish me for my ignorance.
Bike runs fine, but the clutch lever was broken. It would often die if not helped when idling in gear. The cable sloths its way back into place when I release it. And finally, I couldn't shift to neutral unless I was stopped (you know, when it dies).
So I got the manual, ordered a new lever and cable, and here begins the journey with my first motorcycle.
I read and re-read the steps and diagrams outlined in the book, and am excited to start taking things apart. Reality sets in: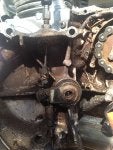 I compare it to this: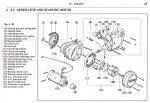 Page 45 from Honda Service Manual for CB250, CB360, CL360, CJ250T/CJ360T, 1976​
So, my initial reactions:
1) What all do I need to replace here?
2) Where can I get such a part?
3) Should there be that much grease
everwhere
? (i.e. what all can I clean up here?)
4) This wire sure is falling apart (Stator wire?):
http://s7.postimg.org/yzht5l51n/CB360_Gross_Cable.jpg
I
think
I need a new clutch lever (item 7 in the above diagram). But that sure is a tough search term. And of course they're listed, but not available for purchase on the OEM sites (
BikeBandit
,
Dealer Cost Parts
,
Honda Parts Direct
, etc.).
You know, I haven't actually scraped apart and untangled the cable in that first photo. I may do that and see what's left of the lever.
Any help is greatly appreciated! Please feel free to suggest anything I can do while down here that will be beneficial as well. And I look forward to bringing you more of my problems. Thank you.