Discussion Starter
·
#1
·
Hi all.
Quick background on me: I've been working on older bikes for a little under ten years. most of that is Yamaha XS650s and Honda CB750s. I'm a hack mechanic at best, but hopefully I'm learning something in the process.
I just picked up a '74 CB360 to fix up with a friend. It belonged to a friend of a friend, who just wanted it out of his garage. Best I can tell, it hasn't been out of that garage since Jimmy Carter was president. Here's a few pics: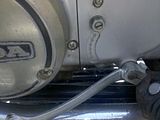 All in all, it's in pretty good cosmetic shape, except for a gruesome dent in the tank that was Bondo-ed over, repainted, and then cracked. Take a look:
The real troubles look to be the carbs, which were given to us in pieces, bent needles, stretched out springs, a gas tank that looks to have a colony of ants refusing to pay rent, a battery box that's almost entirely rust, and God knows what else. I already have a manual and a set of carb rebuild kits on order. Until they come in, I'm going to pull and clean the battery box, then pull the tank and try to clean it out.
I'll try to keep updates on my progress coming. If anyone has any tips on this bike, don't hesitate to shoot me a line.