A friend of mine was looking to clear some space out of his garage so I helped him by buying his two 1972 CB350's. These will be the first 350's I have worked on, but I have completely rebuilt a 74 CB750. Looking to keep it mostly stock, but the wife hates the tail light and the blinkers so I will swap those out for her. My friend said he rode it around a couple of years back and parked it when it ran out of gas.
Here is what I am starting with: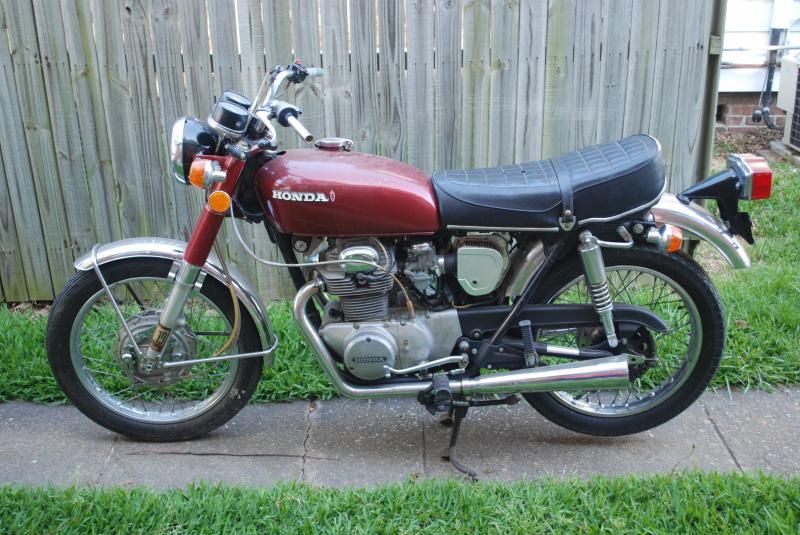 Kicking hte bike over it appeared to have compression, I checked the petcock bowl and screen and they were nice and clean. Put some fuel in the tank, took out the float bowl drain screws, and opened the petcock. Fuel started to flow and I let it go until it was clean fuel coming out. Feeling good about what I have seen so far I decided to try and start her up. I jumpered it from my truck, but the only thing that lit up was the tail light and nothing happened when I thumbed the starter. Looked around and found that the 15amp fuse wasn't there and that the wires were just twisted together. I had a single ATC blade fuse holder and fuse in my electrical parts bin so I hooked that up.
Since I wasn't getting anything other than the tail light I decied the jump the starter solenoid. As expected the engine started to turn over, but never even attempted to start. It was getting ready to rain so I packed everything up for the night. I guess today I will try it again with the plugs out to see if they are producing a spark. If they do then I am leaning towards the carbs. They might be getting fuel, but they aren't pulling it through them. What bothers me is that nothing else seems to get power so I will have to break out the multimeter and see where power is going and not going. I am ordering a bettery today so that I won't have to jumper it from the truck.