Discussion Starter
·
#1
·
]I picked up at 72 CB175 in New Mexico a few weeks ago for $50(title included!). I've been wanting to get one for a while and saw this chance to grab one cheap to play on. I knew it would require work, and I'm not afraid to dive into it myself. The bike had been sitting outside for 25 years. The odometer says 6300 miles. There is very little surface rust, gas tank has a little rust inside but nothing major. My dad picked it up, and thought he could kick it over, but it turns out it is seized.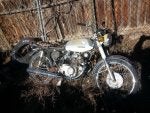 I drained the oil (picture below), and am just glad it was stored with oil in it. No shiny metal came out or major parts, but letting it sit it looks like there is rust or something in the oil. The bowl was dirty before putting oil in, so that dirt was there before. Pulling out the spark plugs, it looks like there is a bunch of ash in the cylinders. The picture below shows a little bit, sorry for the blur. There is already sea foam oil in it when I took the picture. Also one of the sparks plugs may have been stripped coming out, so that will be something I get to deal with.
I'm going to let the engine soak for two weeks. I will then just start to take it apart. I tried loosening a few of the screws on the cover and they are all really stuck. I've got a impact tool so that may be helpful. Can I replace these with hex heads when they go back in? If you guys see anything obvious in the pictures, let me know. Otherwise I'll just update the thread as I go along in case somebody in the future needs some ideas. Or if I give up and someone sees parts they need.